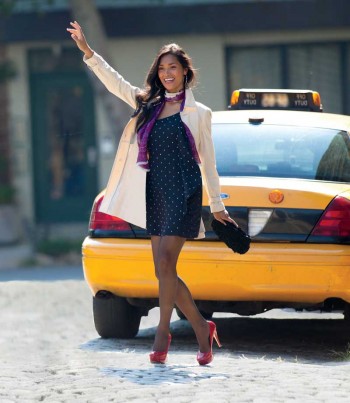 DALLAS, Oct 8, 2012/ — With legwear as one of the hottest trends on the Spring 2013 runway, L'eggs Hosiery, America's favorite hosiery brand, brings the latest legwear innovation to the mass marketplace with the introduction of the new Silken Mist Ultra Sheer with Run Resistant technology.
Once available in department stores only, run resist technology incorporates a blend of soft and silky innovative yarns that make sheers less prone to run. The result is beautifully sheer legs with a flawless look that complements every fashion style.
"It's the perfect marriage of beauty and innovation," says Angela Hawkins, general manager of Hosiery for HanesBrands. "With this new product, women can feel confident about their appearance at work and late into the evening."
In keeping with its tradition of empowering women on the go, L'eggs will launch the new Run Resistant Ultra Sheer with an exciting campaign that inspires women to "Live More and Run Less."
L'eggs is bringing back its popular sweepstakes where consumers have a chance to win a trip to New York City, the fashion capital of America, for a style makeover with celebrity stylist and author Phillip Bloch.
To enter the "Live More. Run Less!" sweepstakes, consumers, age 21 years or older, may visit www.leggs.com beginning Oct. 8 through Nov. 18, 2012.
No purchase necessary. See official rules for details. The grand prize includes a trip for two to NYC for the ultimate fashion and beauty makeover.
The full grand prize package, valued at nearly $10,000, includes coach-class airfare for the winner and a guest, including three nights hotel stay with double occupancy, meals and transportation and a New York City dinner cruise for two.
A $2,000 shopping spree in select stores with celebrity stylist Phillip Bloch will be provided, as well as a haircut and style session at a premiere hair salon. In addition, a total of six weekly prizes will be awarded that will include a "Live More. Run Less!" gift pack comprising of a $200 gift card to Target, CVS or Walmart, L'eggs Silken Mist legwear and a L'eggs "Live More. Run Less!" logoed T-shirt.
The new hosiery is available in stores nationwide for a suggested retail price of $5.99. New L'eggs Silken Mist Ultra Sheer comes in Jet, Black Mist, Nude, Sun Beige and Coffee and in sizes A, B and Q. For more information, visit www.leggs.com.