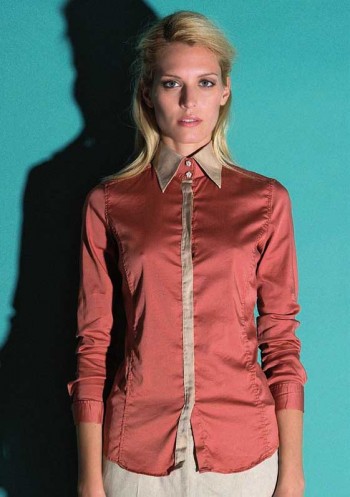 NEW YORK, Nov 19, 2012/ — Founded in 2007, Aglini, the luxury Italian shirting brand for men and women continue to turn heads among the fashion set with its exquisite women's blouses, tunics, and dresses to well-crafted men's button-up shirts. Recognizable in its design details, fit and fabrication, an Aglini piece is a product of the highest quality and greatest value.
The brainchild of a father and son duo, with a team designers and technicians, Aglini brings the exclusively made-in-Italy shirting brand to the U.S. market place. The Aglini creators mix styles, inspirational sources, and understand the dedication of constructing a one-of-a-kind piece.
Influenced by the essence of the Italian spring and summer, the design team showcases delicate prints with Liberty textiles, eyelet, and stripes. In addition, they utilize textiles from Italian mills such as Albini, Canclini, Sic-Tessa and Seterie Argenti.
Choice fabrics consist of solids, stripes and patterns on a broad range of double twined cottons, offered in various weights, stretch or non stretch, cotton oxford, pinpoint, embroidered cotton, cotton-linen blends, 100% linen, as well as washed leather.
Each season Aglini presents options for a unique tailor-made experience, making any custom combination possible. Clients can create their own look as the Aglini team provides a selection of collars and cuffs with embroidered details, fur trim, sequins or simple buttons for customization on standard bodies.
Shirt plackets can be customized with the collars, cuffs and elbow patches, including the thread color used for buttons. Fabrics, trims, buttons and sequined detailing evolve each season for a truly specific collection unique to each market and region.
Retail prices range from $225- $295 for a majority of core blouses and shirts, including silks. Tunics and dresses vary between $250-$395 with specialty fabrics found at $495.