NEW YORK, Nov 5, 2012/ FW/ — Entitled 'Interview with Katie Chonacas', Katie Chonacas is a talented actress, model, and singer with a passionate soul full of inspirational advice to give to others. Fashion Windows has the insider on this stylish star's success story.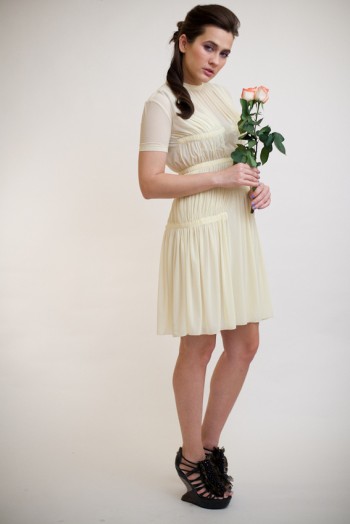 Fashion Windows: Tell me a little bit about yourself.
Katie Chonacas: I was raised in Livonia, Michigan, 30 minutes away from Detroit. My Greek Father and German mother raised us Greek Orthodox Christian, which is where my name Kyriaki originates. Kyriaki (meaning "Sunday" in Greek) was a martyr who died for her sins. My father, a former cross country runner, inspired me toward the beauty of running when I was in 6th grade. At my peak I was ranked fastest in Michigan and 6th in the nation.
Another thing about me is four years ago on Valentine's Day I got a pet bunny from my gia gia (my grandmother). His name is Sparky Big Heart Chonacas.
FW: What has been your favorite moment in your career?
KC: I've been blessed to have a constellation of fond moments. After relocating from Los Angeles and working with much focus in New York City, I'm finding myself in the midst of a delightful moment having just booked my first TV role on Law and Order: SVU. I am really excited and honored to be welcomed on the show.
FW: Who are your idols in life?
KC: Maya Angelou, Madonna, Barbra Streisand, Oprah and the greats like Mozart and Mikhail Glinka inspire me to expand my desires – they inspire greater aspirations within me. I love Nick Cannon's empire – I love the thought of accumulating the wealth of accomplishments he has amassed. I also admire Mariah Carey because she has lifted music to a higher art form, using her voice as the propulsion. I appreciate JLo for her innate elegance, Britney for her resilience, 50 Cent for his stunning bandwidth of thought. Most importantly, I love my gia gia because I look up to her so much and I dedicate each heartbeat to her.
FW: How would you describe your personal style?
KC: My personal favorite style is supermodel Calvin Klein classic-chic with a rockstar twist. I fancy Balmain hardcore, Bottega, Chanel, Hermes, Helmet Lang, really anything from Paris, so I'll take two of each.
FW: What career advice can you give to aspiring musicians, models, and actresses?
KC: Remain educated and excited about your interests and profession. Carefully study the people who have what you want, and use them as your inspiration. The Internet is a great tool for exploring the "what's what and who's who." Always keep your mind open; you allow more inspiring thoughts that way.
Also, handwrite your thoughts as much as possible because when you do that, you are creating 10,000 neuro-pathways that will help your mind vibrate what you want into reality. Think big. Whatever you want, you can have. Think and feel with a big heart. Give, give, give till you cannot give, then give some more.
The most important talent anyone can have is the ability to direct their thoughts to that which pleases them. Master that ability, and you'll have it all. Never forget to breathe. I love to steam and sauna and stretch as much as possible. While you're at it, put really good products on your face, drink a gallon of water per day, and like gia gia says, "Take your vitamins."
FW: What can your fans look forward to see from you next?
KC: I am shaking with excitement for people to see my dynamic appearance in Law and Order: SVU. On the musical front, fans can get excited about my two new spoken-word music videos titled "Wonder" and "Panda" all beats created by RONNIE BECK BEATS, so those are just around the corner and you can watch them on YouTube. I also just finished a new track titled "Paris Fashion Week", which I dedicate to my BFF and fashion stylist extraordinaire J. Logan Horne. You can find me, as well as my music on iTunes simply by searching "Kyriaki Sunday." As for my art, more of it will be featured on www.artspace.com and in galleries around the world, so there is much expansion ahead for everyone to look forward to.
FW: Do you have anything else to add?
KC: Read the book I Am the Word as soon as you can. Listen to Abraham-Hicks on YouTube because Esther and Jerry Hicks are 100% on the money when it comes to living the best life you can live; look up their books on Amazon.com. Believe in all your dreams and wishes. Allow your pleasing thoughts and beliefs to inspire the steps you can take to make all your dreams come true. When listening to the advice of others, everybody can tell you this and that and everything in between, but be sure to listen to each one of them. Also, always remain teachable and when the time comes to make a decision, choose the path that is most pleasing for you. Your emotions also are your guide; you were brought here to thrive – use your emotional guidance to get you there. Finally, call your mom and tell her you love her.
For more information, follow Katie Chonacas on:
@katiechonacas
[DARBY RADCLIFF]
 Photos by Justin Guarino and Comics by Nick Ralph/Make up by Angela Wang