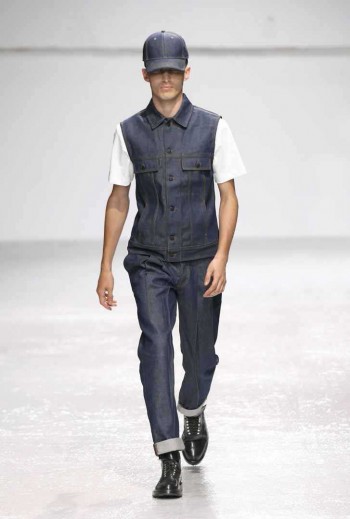 PARIS, Nov 16, 2012/ — Inspired by the ubiquitous T-shirt, an American invention nonetheless, Kris Van Assche created hybrid clothes for Spring/Summer 2013. Mixing the sophisticated metro man with the ever casual sportive guy, the KrisVanAssche Spring 2013 collection blurs the line between formal and casual.
Interestingly, the exchange between worlds is also illustrated by the use of denim, as part of the renewed association with Lee, the century old American brand known for its jeans. From the pleated trousers to the narrow tie, the raw fabric is cut with an unusual style.
A collaboration that started last January, wherein the first KrisVanAssche Lee Jeans were unveiled and first introduced on the catwalk during Paris Menswear Week Fall 2012 season, the partnership grows strong with very positive response to this hybrid line.
Who would have thought that Lee Jeans, a favorite wear of the western cowboys since 1889 when transformed into high fashion apparel with prices ranging from 195 to 415 euros would turn into an instant favorite among the fashion elite?
The answer to that is easy… It's Kris Van Assche's magic touch!
[MARI DAVIS]
Photos courtesy of KrisVanAssche