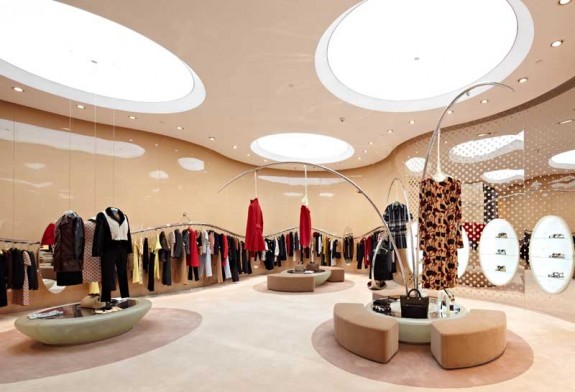 NEW YORK, Nov 13, 2012/ — The newly minted Marni Edition store has its big sister, MARNI BOUTIQUE by its side. Measuring 130 square feet, the new Marni boutique in Shanghai's REEL shopping centre creates a sense of discovery.
The boutique is configured as three tangential circles, defining different shopping zones. A stainless steel rail hugs the curved perimeter, setting the flow of navigation and drawing shoppers naturally through the RTW collection to the shoes and accessories.
Display boxes of backlit fibreglass, set into frit-patterned stainless steel walls, become a focal point, while circular fibreglass display tables sit atop insets of deeper hued carpeting, punctuating the zones and plush velvet benches create a relaxed and intimate atmosphere.
Hanging mannequins appear to float in the simple facade, kept clear to allow clear views into the shop. A warm, earthy palette complements the latest Marni collections.
MARNI BOUTIQUE
Shanghai – Reel Mall
1/F #112, Reel Department Store
1601 Nanjing Road (West), Jingan District