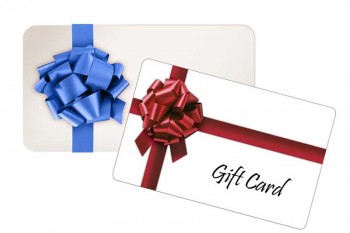 WASHINGTON, D.C., Nov 14, 2012/ — It's the win-win gift for givers and receivers, and this holiday season, shoppers plan to spend more than ever on the most flexible and convenient of gifts: a gift card.
With retailers providing increasingly creative ways for gift cards to be personalized and delivered, NRF's 2012 holiday consumer spending survey conducted by BIGinsight shows that 81.1 percent of shoppers will purchase at least one gift card and will spend an average of $156.86 on gift cards, the highest amount in the survey's 10-year history. Total spending on gift cards will reach $28.79 billion.
According to NRF's first holiday survey, released in October, six in ten (59.8%) of those polled said they'd like to receive gift cards this year, up from 57.7 percent last year.
Consumers will spend an average of $43.75 on each card they buy. As in previous years, men plan to spend significantly more on gift cards than women, shelling out an average of $172.98 versus women's $141.66.
When it comes to which gift cards people will buy this holiday season, more people than ever say they will give their friends or family members a gift card for an online merchant (11.2%) and coffee shops (18.1%). Others will buy gift cards to department stores (39.1%), book stores (20.8%), grocery/gasoline stores (12.6%), and discount stores (14.2%). And 33.3% of shoppers will send friends and family for a night out with restaurant gift cards.
More than one in five (21.1%) gift givers say they'll buy gift cards because they are easier and faster than traditional gifts. But practicality comes out as the most likely reason shoppers will buy gift cards this year as 44.7 percent say they'll buy gift cards because they allow the recipient to select their own gift (down from the 46.4% of people who said the same last year).