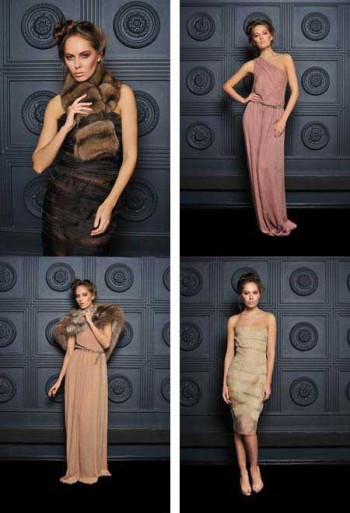 NEW YORK, Nov 16, 2012/ — Inspired by the timeless film, The Great Gatsby, Marusya's Marina Ilchenko incorporated the feel of the 1920's in her Pre-Fall 2013 Collection. The newfound freedom in dressing enjoyed by women of that era comes alive with a modern, updated twist in the intricate beading, fluidity and movement of her bespoke creations.
Marina's fascination with the roaring twenties, an era when women came into their own and style was revolutionized, is what her design aesthetic is founded on. Drawing inspiration from the confidence of a woman that radiates from within, Marina's creations are the perfect accessory to a woman's inner beauty. Using shades of burgundy, mauve and black, Marina brings together luxury and craftsmanship in her fur pieces and evening wear.
MARUSYA's designer and Moscow native, Marina Ilchenko was highly influenced by her mother's elegance and keen eye for detail, exposing her to the world of fashion, architecture, and fine arts.
In 2002, Marina pursued her dreams of becoming a fashion designer and established, MARUSYA. Ilchenko believes in the combination of classic and modern elements, which serves as one of her key elements in designing. Fall/Winter 2012 marked Ilchenko's entrance into the American fashion arena.