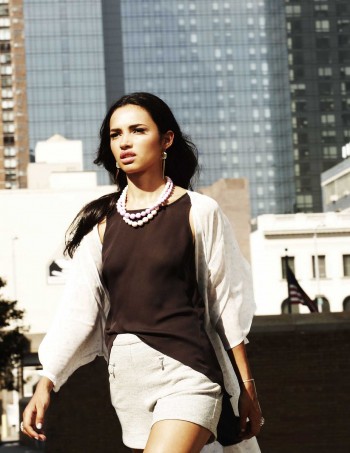 DALLAS, Nov 17, 2012/ — Inspired by Florence Welch's free-flowing garments worn on stage, and the impeccably dressed girls at Coachella, the latest Rae Francis collection is perfect for any girl headed to a music festival this spring.
Bohemian insouciance and romance are clearly captured in this collection, which represents the delicate side of spring through signature airy silks, lightweight linens, and dainty cotton eyelets. With an abundance of soft pastel tones, the collection gives its wearer a playful yet delicate look.
The colors are neutral enough to effortlessly enhance your complexion, yet splendid enough to light up any room. Ranging from pewter blues, lavenders, and pinks to more earthy tones of charcoal, brown and beige, the collection brings forth a perfect assortment of pieces for easy layering.
For the modern woman who seeks comfort and quality while still turning heads, the collection offers a perfect range of basics and statement pieces that are ideal for transitioning from day to night. From floaty tops with bold cut-outs and flirty daytime dresses with pockets, to asymmetrical skirts and maxi dresses with thigh-high slits, each piece in the collection also offers an element of playful surprise in its details, a signature of the Rae Francis aesthetic.
There's no better time than spring to move away from the dark, heavy winter attire and to infuse your closet with an ultra-feminine touch. If you've been yearning to let out your inner Boho goddess, the Rae Francis Spring 2013 collection allows you to do just that, all with a modern edge.
www.RaeFrancis.com