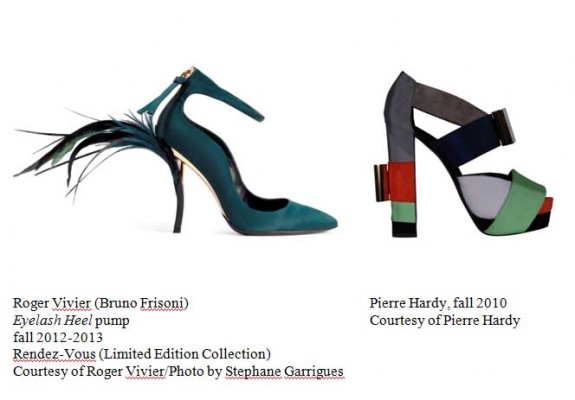 NEW YORK, Nov 16, 2012/ — Imelda is not alone with her love of shoes. On view February 8 – April 13, 2013, at The Museum at FIT, "Shoe Obsession" is an exhibition that examines our culture's ever-growing fascination with extravagant and fashionable shoes.
In fact, designer shoes have overtaken "It" bags as the most coveted fashion accessories. In response, shoe departments in major department stores have undergone significant expansions, and the "great designer shoe wars" have escalated.
Shoes by established designers such as Manolo Blahnik and Christian Louboutin continue to be bestsellers, while the number of rising stars within the footwear industry is multiplying. Over the past decade, heels have reached new heights —as have prices. High-heeled shoes—the fashion shoes of the 21st century—have become so tall that even a 4-inch heel is considered "low."
Shoe Obsession will feature approximately 150 examples of contemporary footwear, highlighting the extreme, lavish, and imaginative styles that have made shoes central to fashion.
The popularity of designer shoes has grown rapidly. Little more than a decade ago, appreciation of Blahnik's feminine, elegant designs was limited primarily to fashion insiders. Then the style-conscious characters on the popular television series Sex and the City were presented as obsessive about his shoes, and Manolo Blahnik became a household name.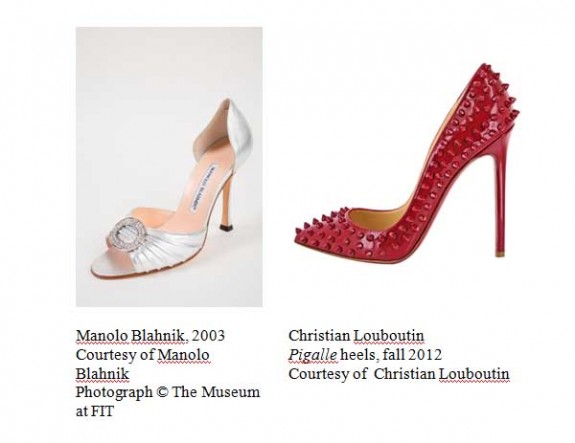 Shoe Obsession will include a pair of Blahnik's rhinestone-buckled, silver D'Orsay shoes—a version of which was used in a 2003 Sex and the City episode titled "A Woman's Right to Shoes."
Blahnik's success paved the way for other high-end shoe designers, a number of whom have become celebrities in their own right. Christian Louboutin's undeniably sexy shoes—with their signature red soles—have established him as one of the best-known footwear designers in the world.
Bruno Frisoni, as artistic director at Roger Vivier, has maintained that brand's legacy of opulence and impeccable craftsmanship, yet Frisoni also cultivates a style all his own. Also featured will be shoes by Pierre Hardy, whose work is defined by strong, graphic silhouettes and bold color combinations.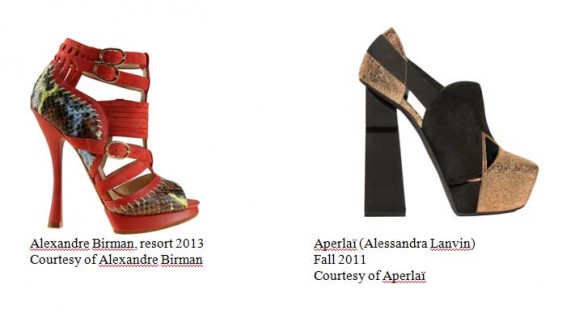 At just over 30 years of age, Nicholas Kirkwood has already gained a loyal following for his edgy silhouettes and unusual mixes of materials.
Other up-and-coming designers to be featured include Alexandre Birman, a young Brazilian born into a family of shoe designers. Charlotte Olympia Dellal's glamorous shoes are often inspired by the 1940s, yet the designer's bold choices of print and color exude a fresh, modern charm. Although Alessandra Lanvin's shoe label, Aperlaï, was founded just three years ago, the designer's sophisticated references to fine art—including her Cubist-inspired Geisha heels—have positioned Aperlaï as a brand to watch.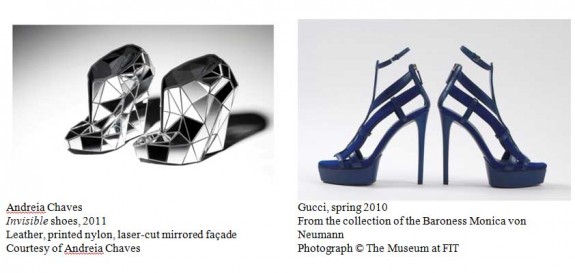 In addition to showcasing leading shoe designers, Shoe Obsession will feature extraordinary styles from major fashion houses. Givenchy, now under the creative direction of Riccardo Tisci, produces shoes that complement the moody elegance of Tisci's clothing.
While many 21st-century shoe styles may be perceived as extreme or extravagant, avant-garde designers such as Japan's Noritaka Tatehana push the envelope even further. An example of Tatehana's Lady Pointe shoes, a style worn by Lady Gaga in a recent television performance, will also be on view. The shoes measure a vertiginous 18 inches tall.
Museum Hours: Tuesday-Friday, noon-8 pm; Saturday, 10 am-5 pm. Closed Sunday, Monday, and legal holidays.
Admission is free and open to the public.