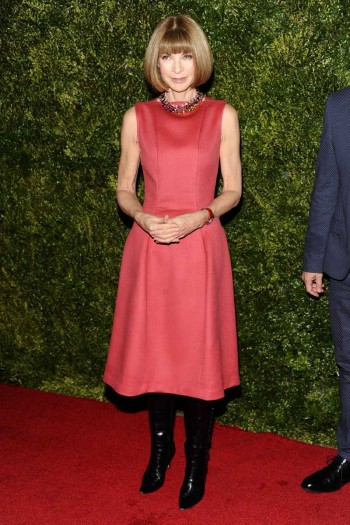 NEW YORK, Dec 5, 2012/ — The latest fashion film, "In Vogue: The Editor's Eye" is not shown in theaters but at The Metropolitan Museum of Art in New York City.
Coinciding with the 120th Anniversary of Vogue magazine, the documentary film takes a look at some of the world's most influential fashion images as conceived by the magazine's iconic fashion editors.
Drawing on Vogue's exceptional archives, the film features behind-the-scenes interviews with editors who have contributed to the magazine's legacy, industry icons and celebrated Vogue subjects, all of whom share their experiences collaborating with top photographers and image-makers of the day.
The documentary premieres on HBO this Thursday, December 6th at 9:00pm EST.
Attendees to the premiere are a veritable list of fashion's who's who and topping the list is none other than Vogue Editor-in-Chief Anna Wintour, who was wardrobed by Calvin Klein Collection for the evening. Actress Nora Zehetner also chose to wear Calvin Klein Collection for the event.
The women's looks were designed by Francisco Costa, the brands' Women's Creative Director, who was also in attendance at the event.
Photos by © 2012 Patrick McMullan