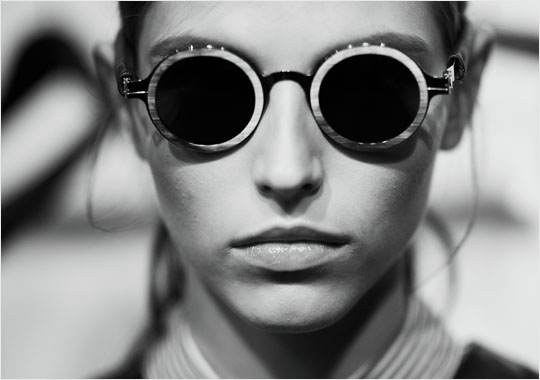 PARIS, Dec 13, 2012/ — Just in time for the holiday season, Mykita and Damir Doma unveils their first collaboration, the DD01, a new style of sunglasses.
DD01, the name obviously based on the designer's initials, is the first eyewear designed by Damir Doma for Mykita. The progressive use of contrasting materials, the aesthetics of an openly displayed construction and the mélange of cool and warm colour tones are the defining elements of DD01.
What began with an in-depth study of forms, colours and surfaces, over the course of the collaboration ultimately developed into a circular silhouette in stainless steel and horn.
The combination of cool stainless steel and warm natural horn creates both visual and haptic contrast reminiscent of the characteristic mixture of coarse stiff fabric and soft flowing textures in DAMIR DOMA's collections.
The result is a futuristic look that elevates the recurring round motif in Doma's work to another level.
"This particular shape perfectly rounds up the DAMIR DOMA look. From the very beginning, our aim was to translate the traditional shape into something modern and create an iconic object," says Damir Doma.
At the same time, DD01 is a historic reference to the round glasses worn by the intellectual avant-garde throughout time.