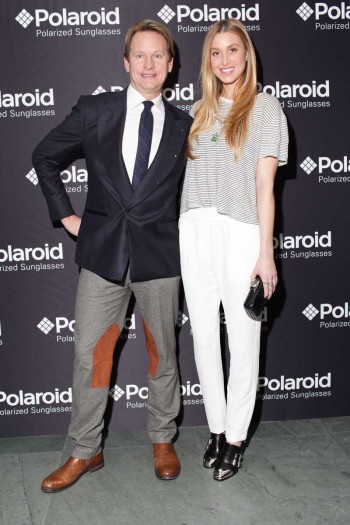 NEW YORK, Dec 14, 2012/ — On Tuesday, December 11th, Polaroid Eyewear celebrated its 75th Anniversary at The Museum of Modern Art (MoMA) wherein guests discovered, explored and interacted with the brand's technology, heritage and innovation, whilst they were introduced to how Polaroid Eyewear is moving forward into the future.
The event was attended by a thousand people from the USA, South America and Europe together with personalities such as Whitney Port, Carson Kressley, Aisha Tyler, Robert Verdi, J. Alexander, Alex Karpovsky, Neon Hitch, Stella Maeve and DJ Kiss. The New York based DJ trio "The Misshapes" performed during the evening.
The main focus of the event was the unveiling of the new Polaroid Plus collection which will be released in the U.S. in Spring 2013 at SOLSTICE Sunglasses (www.SOLSTICEsunglasses.com), the sunglass specialty retail chain, as well as in select department stores and optical retailers.
Guests were also invited to experience polarization through a striking glare installation which demonstrated the unique and perfect vision of the Polaroid polarized lens.
The celebration took place at the MoMA, whose collection of Architecture and Design includes an original pair of 1946 Polaroid sunglasses: a unique piece manufactured by the American Optical Corp. and donated to MoMA by Edgar Kaufmann Jr., heir to the famous family home Fallingwater, designed by Frank Lloyd Wright.
This pair of Polaroid sunglasses is among the objects in MoMA's collection that were selected by the contemporary artist Trisha Donnelly for her installation entitled Artist's Choice, on view at MoMA until April 8, 2013.
Polaroid Plus Sunglasses
In the year of its 75th anniversary, Polaroid Eyewear is introducing the new Polaroid Plus sunglasses collection, which combines the latest results in polarization technology with a brand new style designed for a minimal and urban look.
Every pair of sunglasses features the Polaroid UltraSight™ Plus lenses, the evolution of the polarized lens, which are now also glue-free to ensure perfect vision, high protection and comfort: this is eye care at its best.
The collection is available in 10 styles, each and every one featuring the new polarized technology. The Polaroid Plus collection is produced by Safilo Group.