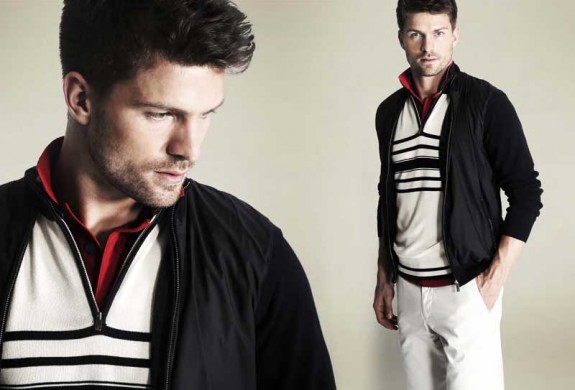 NICE, France, Jan 7, 2013/ — With the 100th year anniversary of the sinking of the Titanic in 2012, the nostalgia for the Trans-Atlantic ocean lines of the early 1900s on an all-time high.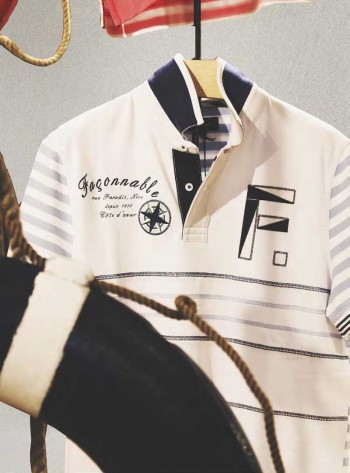 So, for Pre-Fall 2013, Façonnable is taking a stroll above deck on a turn-of-the-century cruise liner and channels the timeless style and impeccably easy elegance of both its well-heeled passengers and gentlemanly crew.
Inspired by the bygone sophistication of the Transatlantic ocean liners and the soulful style of the 1998 film, "The Legend of 1900," the new Façonnable collection cuts a modern dash by marrying maritime style with traditional tailoring and then adding in just the right amount of contemporary ease.
A new formal attitude is given the Façonnable touch by reworking shipboard classics in a relaxed, effortless and free spirited way.
Colors, from bright navy, heather grey, teak and cerulean to cream, leaf green and amber create a traditional yet fresh and sporty palette for the collection. Maritime details, graphic stripes, a new relaxed silhouette, lightweight sportswear and softly tailored separates are all combined to create a polished yet effortless look that leads the way from hot weather dressing into fall.
Heavy washed linen trousers, cut loosely, are combined with our new cozy cardigan jackets and a sharp bib front shirt to create an elegant yet breezy look. Likewise, outerwear is tailored and crisp when combined with softly brushed cotton "tuxedo" chinos and our new take on the Façonnable stripe sweater.
Our classic shirt jacket makes a comeback this season in a travel inspired stretch cotton or an Atlantic blue version in feather weight suede. Both are sophisticated yet informal when layered over our signature washed shirts and paired with a new updated version on a flannel trouser.
Strong, confident but never ostentatious, the men's pre-fall line-up also features a softly draped raincoat with removable techno hood or the new cropped double face pea coat reversing to traditional transat stripes.
Delving deeper into the collection, the design team crafted a new, colorful assortment of polo shirts that feature contrast collars, flag details; graphics pulled from vintage Cruise liner posters as well a fresh take on color blocks.