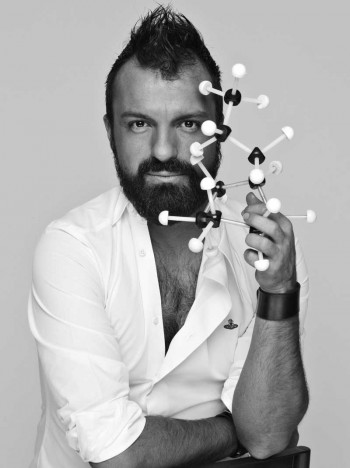 PARIS, Jan 21, 2013/ — Holding up a portion of what looks like a recreation of the DNA Helix, French-born couturier Julien Fournié explained "First Genes," his eight collection which will be unveiled tomorrow, Jan 22nd at 4:30 PM.
"I'm not redefining my designs, I'm densifying it," explained Julien Fournié. "To achieve that, I am following the route an Asian calligrapher takes when writing, that is, aim to reach the essence of the message."
Those who follows Julien Fournié's career know that the title of his collections always come with the word "First" (Premiers in French). Under the influence of his retrospective shows held in fall 2012, in Stockholm and Singapore, the young couturier has developed a new conscience of his style genes.
It seems that Julien is saying that his days of "Firsts" are numbered and the day of owning his niche has arrived. This season, Julien delves deeper into his maison's DNA. Instead of introducing brand new silhouettes and embellishments, Mr. Fournié expounds on what he had created before giving it depth and soul.
The title "First" has served him well, but it also denotes a feeling of tentativeness. With "First Genes," Julien proclaims "I own it" and thus you feel his buoyancy and to use a vernacular, his "coolness".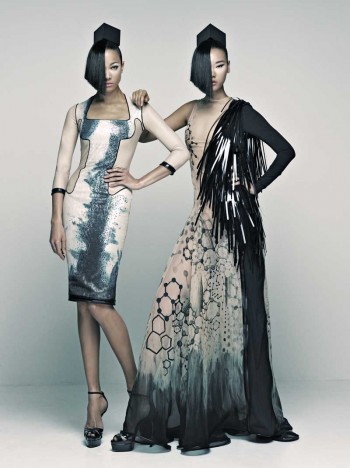 A collection dominated by black, white and silver grey, kinesic stripes on satin pieces, patterns of jacquard in lurex, computer integrated circuitry reproduced in fine lace, and tailsuit jackets with zippers accentuate the hypergraphic aspect, nodding at both futurism and japonisme.
Nude organza or leather is embellished with Bakelite or with hand-painted motifs of molecules. A few touches of bright color only glitter on origami pants in pink changing to copper, and on the train of an evening gown in night blue shining with purple.
Shirts and blouses in dense, white, immaculate triple organza display a new curvy sleeve, elegantly folded and finished with a collar cuff. Point d'esprit tulle plays on straight transparency, swakara fur is inlaid in suits and dresses alike, building up the couture signature with clear respect for Claude Montana and Gianfranco Ferré.
The final dress, made with the legendary Parisian embroiderer Lesage, bristles with black rhodoid and metal, ruffling as the body moves.
The typical curve in the heels of the Walter Steiger stilettos and sandals matches the winding silhouette of a delicate femme fatale.
[MARI DAVIS]
Photos courtesy of Julien Fournié