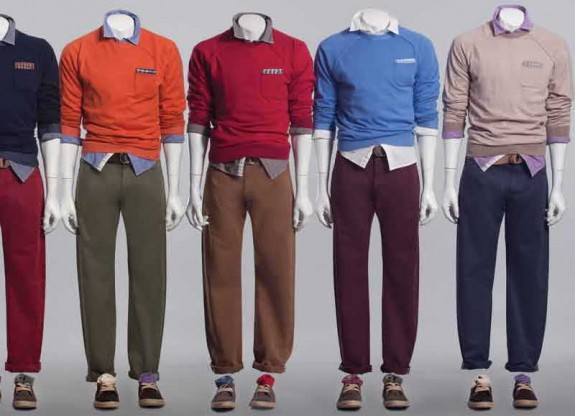 NEW YORK, Jan 11, 2013/ — Finding its inspiration in the linear frameworks of the mid-century architecture, the scott james Fall Winter collection offers lush cashmere and wool sweaters, sharp cut coats and smooth trousers, euro-chic blazers and slim fit button down shirts.
From the double washed wool sweaters to the muted color trousers, and all the way down to the suede tie and slip on shoes, each piece reflects the philosophy behind the aesthetic of the collection: a rich yet softened color palette combined with an Anglo European construction.
Always keen on using color as an intrinsic aspect of the garment, this season Scott James Kuhlman, Founder and Head Designer of scott james, muted the hues.
Whether it's the solid trousers, priced at $ 150.00, or the contrasting plaid coats, retailing for $395, the non-saturated color palette infuses the collection with neutral grays and blues paired with pops of red and greens, and an array of rust colors.
Known in the past collections for their regular fit, the scott james 5 -pocket trouser is reinvented by getting slimmer and more adherent to the body. The selvage corduroy jean is also a key essential piece due to its durable cut and pile fabric, priced at $165.
Unusual blends of fabrics create surprising results. The intertwining of a cashmere yarn wrapped around a merino thread results in a luxurious yet affordable sweater, priced at only $250.
Adding to the complexity of the season is the introduction of the scott james suit separates. Offered in a two button and a double breasted style, jackets and pants are priced at $ 395.00 and $ 195.00 respectively. Available in navy blue, gray and taupe, each piece showcases a bold easy-to-wear silhouette.
"This collection is a homage to the man's essential wardrobe", says Scott James Kuhlman. "The 4 basic elements of blazer, pant, sweater and button down shirt, can allow for multiple combinations".