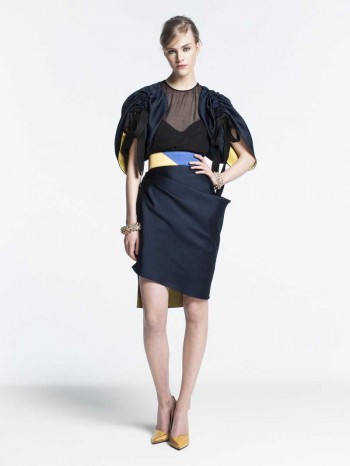 DALLAS, Jan 23, 2013/ — Vionnet, the House famous for its cuts; after all, it was Madeleine Vionnet who invented the bias cut. And for Pre-Fall 2013, Vionnet presents a collection that exalts its heritage while continuing to advance into a fresh and modern creative arena.
The signatures of Madame Vionnet — square cuts of fabric, bias constructions and draping — are all present today, yet vividly re-imagined with a contemporary eye.
The artist Louise Bourgeois and her intriguing work with textiles, inform not only the distinctive color palette but also the unique patterns found pulsing throughout.
Black and white root the collection, creating a two-tone game on fronts and backs of dresses that reinforces the art deco undercurrent. Shots of color, from emerald green, sapphire and citrine to a dark ruby or pale sea foam, create a vivid canvas and contrast for the neutral base.
The shapes are all classically Vionnet, both in their simplicity and originality, but have been updated with sharp tailoring. Masculine, constructed shoulders, for example, play off the femininity of fluid draping.
Square panels of fabric are newly layered to create modern asymmetry on short cocktail dresses and long gowns.
Jersey dresses with scarf hems and bias draping can be worn in straight column cascades or belted to emphasize the waist. Tunic dresses, a house signature, have been reinterpreted with asymmetrical shoulders and hems and can be worn with trousers, skirts or on their own as short dresses.