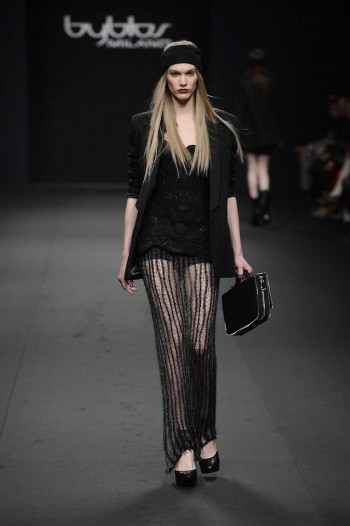 MILAN, Feb 23, 2013/ — Dark and mysterious, romantic and retro, Ophelia meets Kate Moss: the Byblos Milano 2013-2014 autumn/winter collection explores two complementary aspects of femininity, creating a completely unprecedented gothic-rock mood.
The Shakespearean inspiration of the legend of Ophelia seems to evoke Pre-Raphaelite memories: the mad eternal sleep of the dark heroine painted by John Everett Millais – or of Kirsten Dunst lying in a bed of water in Lars Von Trier's Melancholia – creates fluid, sophisticated lines, delicate, almost ethereal, with luxury materials and couture techniques.
Aspects of decadent and late-Romantic sombreness create contrasts in graphic motifs, too. Prints bring together roses and têtes de morts given a new twist through the use of lace; gothic flowers with foliage such as sprays of weeping willow; a three-dimensional soul of macramé and chiffon with lace-like threads.
Fabrics make continuous contrasts – light and heavy, textured and delicate – with interplays of sheerness so as to bring out the pattern of an embroidery as if it bloomed from the body. Prints generate incantations of style: skilfully placed, recreated through layering, characterised by plays of lights, and matched with metal-thread embroidery, almost originating new, dynamic, strong textiles.
The inspiration drawn from the sensuous, strong-willed Pre-Raphaelite woman is displayed in siren lines softened by fullness and overlaid sheerness: Ophelia on the Rock in the severe pleats of dresses and skirts, some of which are embroidered with metal thread, contrasting with tops and blouses in an extravaganza of floaty, full silk and with a flowing, ultra-romantic A-line. Silhouettes are exaggerated: the kimono shape triumphs in blouses and dresses.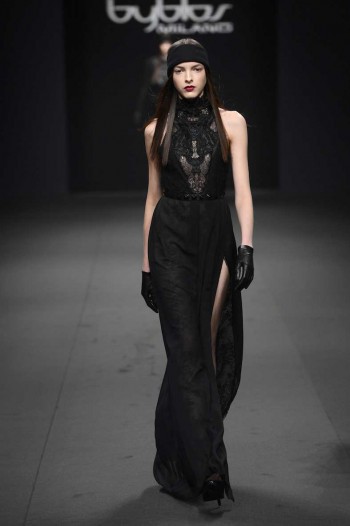 Somewhere between a mysterious Kate Moss and an elegant black swan, Byblos Milano's modern Goth heroine plays with cutting, pleat patterns and asymmetric necklines as she wears tight-fitting leather rock trousers, often with biker inserts, that end above the ankle and are smothered in zips. The biker look returns in the youngest of outerwear, the leather jacket, teamed with floaty silks. She expresses her masculine side through oversized, knee-length jackets that often seem like armour, interspersed with chromatic effects created by multiple-shade pigments.
Fabrics, especially jacquard and angora, have a very fine, barely visible contrast deriving from a combination of opposites: metal and wool yarn; a floaty cocoon together with bold, geometric graphics; romantic macramé and three-dimensional embroidery.
Pull-up boots, thighboots with knee protection and court shoes with protection on the vamp (created through fretwork and gothic-like graphics). Rock 'n' roll low boots to lace up tight or leave loose at the ankle, very 1980s' new romantic.
The simple colour palette tends towards the sombre, from the blackest black to ultramarine blue and from purplish-blue and burgundy to shades of natural colours and bright white.
Kate and Ophelia coexist in the immortal prose of Shakespeare and in the unforgettable lyrics of Goodnight Ladies by Lou Reed… Goodnight ladies, ladies goodnight, It's time to say goodbye, let me tell you now…