NEW YORK, Feb. 15, 2013/ FW/ — Entitled 'Illumination', for the Milly Fall/Winter 2013 collection, the designer, Michelle Smith's theme for her collection was inspired by the spectacular beauty of urban landscapes glistening at night.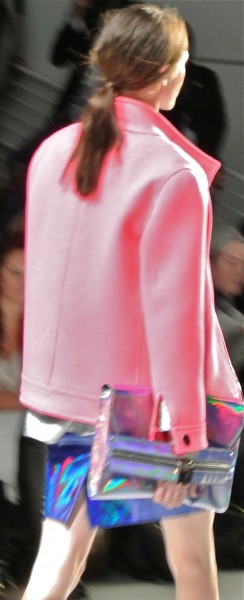 The Milly Fall/Winter 2013 collection's theme is expressed through its illuminating, iconic textured sportswear ensembles that are accented with photorealistic prints that glow against the collection's rich palette of hologram-effect hues.
This Fall 2013 collection consists of bold, luxurious looks including floral silk organza skirts and peplum dresses, black wool double breasted coasts, cobalt studded and crocodile-embossed leather sweatshirts and pencil skirts, violet and charcoal twill pleat pants, as well as the stunning collection includes metallic collared blouses, pencil skirts, and sweatshirts in hologram shades of blue, teal, silver, and pink
The Milly Fall 2013 collection also consists of vibrant, modern accessories including oversized hologram-effect clutches, shoulder bags, cross bodies, and backpacks in black leather, as well as crocodile and blue water snake textured ipad clutches.
[DARBY RADCLIFF]
 Photo by Darby Radcliff