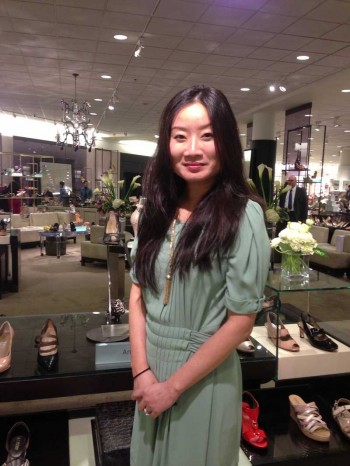 DALLAS, Mar 21, 2013/ — Shoe designer Anyi Lu began her career as a Chemical Engineer, making plastic polymers for a well-known chemical company. Though she was very good at it, she felt she was in a round peg in a square hole.
"I've always loved fashion. And I love drawing and I love painting," Anyi Lu told FashionWindows when we caught up with her at Nordstrom in Northpark Center where she was making a personal appearance today.
"I studied engineering for my mother but it was never my passion," Anyi related. "So, after I got married, I told my husband that I want to do something that excites me, which is fashion. I went back to school to study design. And at the end of my first term, I met a shoe designer who gave me a break, and the rest is history."
Well, almost 8 years of history, that is. Launching her eponymous label almost immediately afterwards, Anyi Lu immediately found her niche as she catered to women who like trendy yet comfortable shoes.
As Jamesha, a Nordstrom customer and who is also a personal shopper said, "I love Anyi Lu shoes because they're cute and comfortable. It's hard to get comfortable shoes nowadays and Anyi Lu fills that need. There is no break-in period, so you can wear it the whole day right after you bought it."
And Jamesha is right on target in her appraisal of the Anyi Lu shoes. Several customers who are fans of the label approached Anyi to tell her that they love wearing her shoes because they are "cute and comfortable."
When asked what the secret of her shoes is, Anyi, to answer the question picked up a wedge shoe and showed how light it is. "Every wedge is like a piece of cushion," said Anyi. "We don't do solid wood or plastic inside. Instead, through a technology I developed, there are air bubbles inside, and thus making the shoe very light and at the same time comfortable."
Designed in Sausalito, California where Anyi has her studio, all Anyi Lu shoes are made in Italy. With a prices ranging from $350 – $395, the shoes are very accessible and more important, very reasonably priced.
And with providence giving credence to my assessment, Anyi Lu shoes were flying off the shelves by the time I was finishing my interview with the designer.
For more information about Anyi Lu shoes: www.anyilu.com
[MARI DAVIS]
Photos by Mari Davis