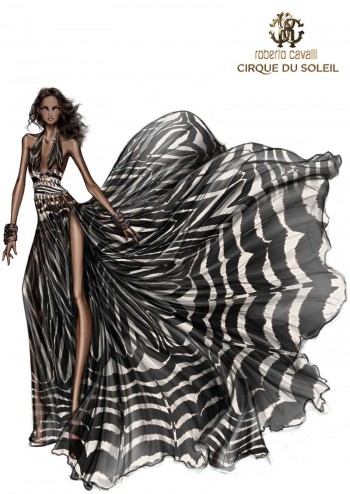 DALLAS, Mar 20, 2013/ — Florentine designer Roberto Cavalli has created a special gown for "One Night for One Drop", a global philanthropy event that raises awareness and funds to ensure that water is accessible to all, today and forever.
For this special occasion, the famed designer crafted a dramatic black and white frock in his signature print. The gown will be featured in the "Africa" section of the show.
Coinciding with World Water Day, the inaugural ONE NIGHT for ONE DROP will be held in Las Vegas, NV, USA, on March 22, 2013 in collaboration with the Cirque du Soleil.
For one incredible evening, international leaders, neighbors, philanthropists, and global citizens will come together to make a dream a reality – a world where every human being has access to water and can live in dignity and health.
ONE NIGHT for ONE DROP includes n extraordinary night of affairs, including a breathtaking spectacle, superstar surprise performances, and a myriad of pre and post-show parties.
There is also once-in-a-lifetime performance in the "O" Theatre at Bellagio featuring cast members from each Cirque du Soleil show alongside several world renowned artisans.
Cirque du Soleil will close all seven of its resident shows in Las Vegas so that all eyes can be on the week's grand finale, ONE NIGHT for ONE DROP.
ONE NIGHT for ONE DROP will benefit ONE DROP's global initiatives, along with innovative educational programming in Nevada through a partnership with the Las Vegas Springs Preserve.