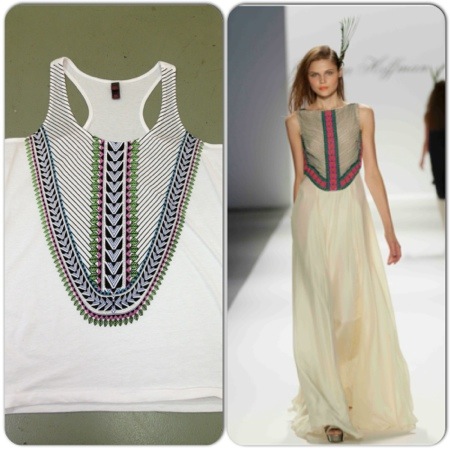 NEW YORK, Apr 13, 2013/— In celebration of the exciting music and fashion happening this weekend in the Coachella Valley, designer Mara Hoffman has teamed up with District Clothing to create a limited-edition tank top, which will be launched in the Hard Rock MusicLounge at Hotel Zoso on Saturday, April 13th in Palm Springs, California.
For her exclusive 'Mara Hoffman x District' shirt design, Hoffman was inspired by a look from her spring 2013 runway show, which featured a tropical, beachy theme that translates perfectly to the California desert weather and pool culture of the festival area.
The original gown from the show featured intricate corded embroidery and seed beading, which was reinterpreted into a colorful print that will be featured on a soft white racer-back District tank.
The Mara Hoffman x District shirts will be launched at the 'Women Who Rock' pool party, hosted by Kelly Rowland, at the Hard Rock Music Lounge on Saturday evening, with a special giveaway to the first 100 lucky ladies to arrive at the party, taking place at Hotel Zoso pool.
Following the Coachella festival weekend, Hoffman x District shirts will be sold in a limited run exclusively at MaraHoffman.com and Districtclothing.com for purchase beginning April 22nd and ending May 22nd, 2013. The tanks will retail for $55.00.