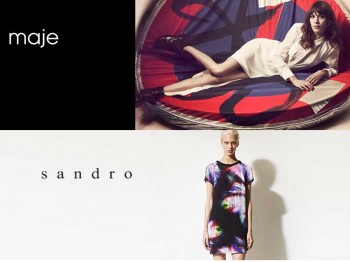 DALLAS, Apr 30, 2013/ — Maje and Sandro, two Parisian brands are now in select Nordstrom locations and on Nordstrom.com.
These über-cool Parisian were started by two sisters — Evelyne Chétrite for Sandro in 1983, and Judith Milgrom for Maje in 1998 — and each offers its own individual take on Parisian style.
Maje takes a twist on the classic with a focus on glamorous pieces and sharp details, with a resolutely feminine silhouette. Judith created the name "Maje" as a combination of the initials of the names of her loved ones.
For Sandro, Evelyne's eye for detail makes every collection special, feminine, and distinctly French. Their first hit was a series of dresses in patterned patchwork with bubble sleeves that were bohemian-chic and loose but with a real style and presence. Sandro has grown to be a label known for feminine, versatile dressing.