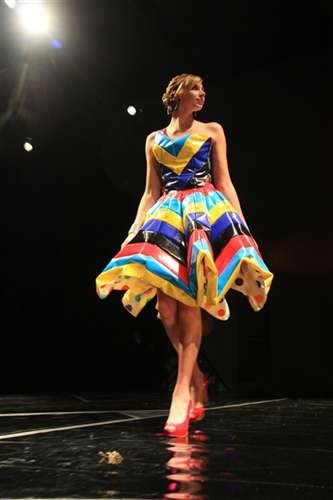 NEW YORK, May 6, 2013/— Two impressive teen fashion designers who were recently awarded the prestigious Scholastic Art & Writing Award, which will be celebrated at Carnegie Hall on May 31st.
At the ceremony they will hear from keynote speaker, actress and fashionista, Sarah Jessica Parker and fashion designer Zac Posen (a former recipient of the Awards) about the importance of nurturing and chasing their creative dreams.
Greg Dugdale, an 18 year old from Carmel, IN, and Chi Aguwa, a high school junior at the Brookfield Academy in WI, are among this year's winners for their impressive fashion designs.
Greg, a recipient of the Portfolio Gold Award (which includes a $10,000 scholarship), designs and creates wearable art out of upcycled materials, including found objects.
Chi Aguwa's winning piece is a dress made of paper and tinted coffee filters and was inspired by Say Yes to the Dress.
Both Greg and Chi were among 230,000 teens to submit work to the awards.
For more information about Scholastic Art & Writing Awards please visit http://www.artandwriting.org/
Photo by The Alliance for Young Artists & Writers