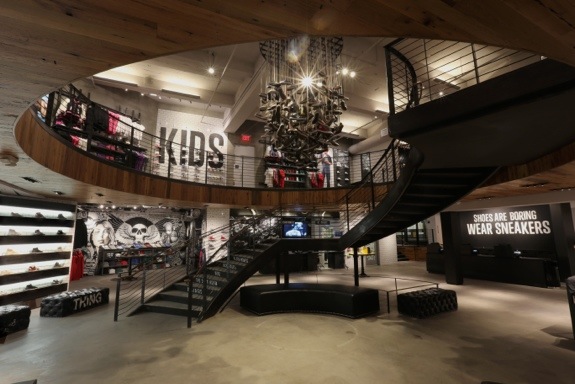 SAN FRANCISCO, CA, JUNE 28th, 2013 – Today, CONVERSE announces the opening of its first Northern California location in San Francisco, the brand's fifth inline location in the U.S.
This first Converse retail location in Northern California offers the most diverse collection of footwear and apparel globally. Located on Market Street in the heart of the Union Square Shopping District, this new location offers the largest assortment of Converse footwear, apparel and accessories globally, This 8,200 square feet store will be the brand's largest retail space.
"Opening a retail store in San Francisco is a perfect fit for Converse, a city with a creative spirit similar to ours. We're thrilled to offer local consumers an outlet to unleash their creativity and participate in our brand through our (…) various music and art programs supported by the brand," said Jonathan Tappan, General Merchandise Manager, Direct to Consumer for Converse.
And along with the complete selection of Converse products, the store offers the Converse Customization interactive retail experience allowing individuals to screen-print their own designs or graphics selected from the Converse catalog on various styles of Converse footwear, apparel and accessories. Using iPads, customers can browse more than 150 Converse-curated graphics including designs that tie back to the San Francisco community, to create their own product by adding grommets, different colored shoe laces and more.
Address:
Converse San Francisco
838 Market Street,
San Francisco, California, 91402,
Phone: 415-433-1174
Monday – Saturday, 10:00 a.m. to 8:00 p.m.
Sunday, 11:00 a.m. to 7:00 p.m.