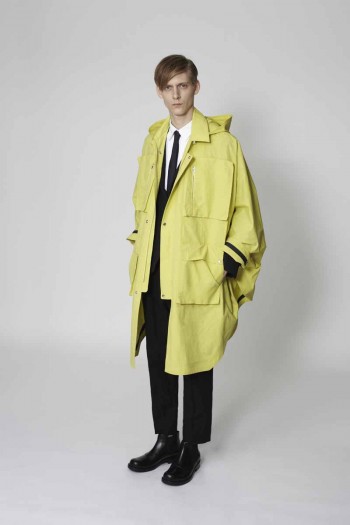 MILAN, Jun 24, 2013/ — Unveiled in Milan during Milano Moda Uomo, the Marni Men Spring/Summer 2014 collection proposes new shapes with utilitarian details that resulted into silhouettes with an industrial feel with a purist vibe.
Once again, Consuelo Castiglioni juxtaposed form and function. Instead of the traditional "form creating function," the ever-inventive Marni designer used "function to create form" with layering and folds defining new shapes.
The focus is on precise lines and contrapositions of volumes: clothes are purely about shape and form. There's a lab-like feel in the way pieces are constructed and layered, the addition of parts revealed rather than hidden.
A sleeveless blazer is worn as a utilitarian vest on top of a suit, or over shorts, playing with juxtaposed textures. Contrast pockets on a work jackets are made by neatly folding the fabric; a streamlined apron lands over shorts and is secured with snaps, in an off-kilter quest for utility. Double-layer shirts and light quilting are graphic in feel, with a purpose.
To create the whimsy that Marni fans are so fond of, Consuelo Castiglioni collaborated with illustrator and typographer Katja Schwalenberg, who created a series of layered lino-cut prints – floral elements, leaves, a playful creature – that have been screened onto white shirts and tees.
[MARI DAVIS]
Photos courtesy of Marni