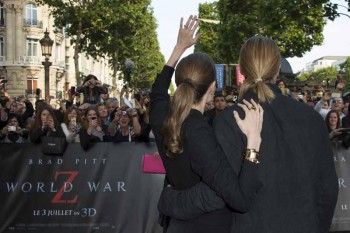 Your hairstyle will play an important role this season and give the finishing touch to your outfit. How you choose to style your hair really matters, especially depending upon the occasion.
The choice of hairstyle also varies according to the shape of your face as well as your hair type and personal style.
Each year, certain trends look more appealing than others. From up-dos to sleek and straight; here are some of the top trending hairstyles for the spring and summer of 2013.
Super Straight
This is one trend that's currently in the spotlight and the best thing is it's quite easy to manage all on your own. Straight hair is possessed by many so it's not so difficult to manage a slightly more sleekly straight hairstyle.
All you have to do is wash your hair, blow dry them with care and that's about it – your super straight hairstyle is done and you're ready to hit the streets. If, however, you don't have straight hair, apply some heat protectant to your hair and use a hair iron for the purpose.
This hairstyle will work for both casual as well as formal occasions and is also easy to transition from one to the other with the right kind of makeup.
Wavy Beach Hair
Wavy beach hairstyle is more suitable for a casual occasion and requires longer hair. It's also possible for those without lengthy hair to try this hairstyle since there are options available in the form of human hair wigs and other similar real hair wigs.
The wigs made out of real hair present an ideal solution for those with short hair because it's easy to make them wavy compared to doing the same with synthetic hair.
For this hairstyle, you need to spray your hair with some beach spray and then, using a curling wand, roughly curl your hair. Once done, run your fingers through the curls to give a messy wavy look, which is just the right touch for a day at the beach.
The Wet Look
For a more laid back look, you would preferably need to start with wet hair. To get into the wet hair look, apply some gel to your hair, close to the roots and create a messy, ruffled up look.
The wet look for formal occasions require that you don't just apply gel, but use copious amounts of it and then very carefully slick your hair back.
This looks great not only on women, but men as well. The wet hair formal look would do perfectly for any 4th of July party you may be planning to attend along with a pair of The Fiona Byrne x Modern Vice distressed boots.
Low Slung Buns
For something of an up-do, low slung buns are quite in vogue and quite easy to make as well. If you want to style your hair into a low bun as an everyday hairstyle or for a hangout with friends, all you really need to do is to comb through your hair very finely and the pull them around into a slanted bun.
For more texture or detailing, you can curl some of the loose locks, or braid them and pin them back.
For something more formal, you can try the same method as above, but with more precision and some hair spray to keep it in its 'slung down' place.
Whatever style you end up choosing, you can feel free to add your own personal touch to it.
Whether it's a feather head wrap with the wavy beach hair, or an elegant headpiece with the low slung bun, don't be shy to flaunt your true inner style.