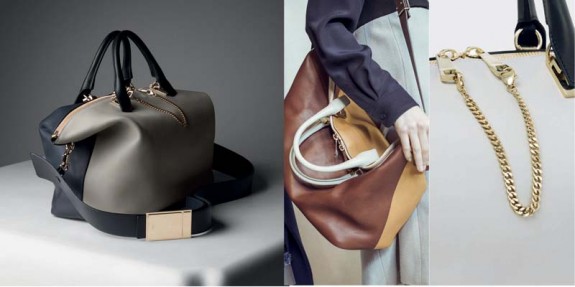 PARIS, Jul 16, 2013/— A bag with a strong personality, the Baylee has echoes of all the classic boyfriend bags I love," says Clare Waight Keller, Chloe Creative Director.
Simple in shape, practical and ultimately a chic attitude, its design, its signature, is best epitomized in a bi-color version where two bright colors offer a variety of combinations. It's a perfect day bag which can change appearance with the pull of a zipper. Ultra supple, changeable and customized with metallic detailing, the Baylee is this fall's coveted accessory.
"I love the slouchy softness of its leather and the strong gold hardware zips linked together with our iconic Chloé chain bracelet," Clare Waight Keller chimes in.
Baylee has an assured Chloé attitude, carefree and chic, which lends itself to every woman's fancy. Bi-colored, the strap fitted with a metallic plate and placed on the shoulder, this is how Clare Waight Keller presented it on the runway last march.
When hand carried, or in exceptional versions such as ostrich or alligator, it becomes more feminine, a different bag altogether. Its volume is generous, useful, and its unique metallic details are a stylish feature as is the zip closure from which hangs a fine chain bracelet.
The Baylee will be available exclusively from july 31st in the five Chloé flagships: Saint-Honoré in Paris, Soho in New-York, Aoyama in Tokyo, Citic in Shanghai, Prince's Building in Hong Kong. Also available at Isetan in Tokyo and from net-a-porter.com.