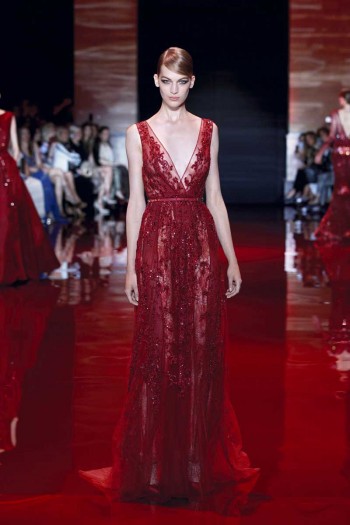 PARIS, Jul 14, 2013/ — With the royal baby enthusiasm at fever pitch, Elie Saab's "Royal Affair" haute couture collection hit the right chord and thus creating a fashion frisson that makes us believe in fairy tales once more.
Because how can we not be awed by the royally opulent silhouettes that appeared between the columns of the Palais Brongniart on July 3rd in Paris?
The first looks gleam, blood-red, akin to rubies plucked from a crown. Veins of carmine sequins highlight the waist, shining like rivulets of colored diamonds. From a distance, they define and draw out the silhouette with celestial light.
Evoking a fiery set of jewels, dresses and trains are embroidered with gem-colored crystals: emerald green, ruby red and sapphire blue.
The procession of jewels in the crown is broken up by silvery sheaths that liquefy into crystalline reflections. Sequins shimmer as if a symphony of colors, a few amongst them calling forth in their wake, the finest tessellations imaginable.
Gowns reveal backs that have been cut into the pear and oval shapes of jewels. A décolleté that curves elegantly like the beak of a swan is set with rows of beading, running analogous to a waistline underscored with glittering stones. To contrast, silhouettes appear with an asymmetric neckline, or are bowed and draped in silk chiffon.
Regal, the bride emerges with her three bridesmaids, wearing a gown embroidered with repeated linear constellations of smoked quartz, crystal and waves of silvery moon dust. She is radiant, a comet of light.