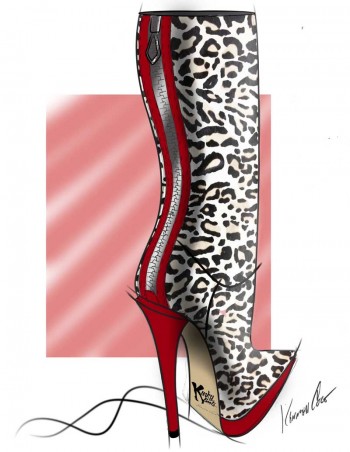 NEW YORK, Jul 17, 2013/ — Collaborating with the Tony Award winning musical "Kinky Boots," New York-based designer Kenneth Cole is launching a limited-edition capsule shoe collection, [yes, you got it right] called "Kinky Boots".
Arriving in stores this holiday season, 100% of net profits from the sale of the shoes will be donated to AWEARNESS, The Kenneth Cole Foundation in support of the Human Rights Campaign (HRC).
Following consultation with Kinky Boots costume designer, Gregg Barnes, Kenneth Cole has also designed the red high heel pump featured in the opening act of the show.
The collection features three styles: a red patent leather peep-toe pump (also available in different color ways), as well as two versions of a knee-high boot – one in black and white leopard, and one in black patent — both with red zipper detailing, and a red patent leather insole and heel. All three styles will feature a "Kinky Boots by Kenneth Cole" logo embossed on the sole.
"Being the son of a women's shoe factory owner, Kinky Boots resonated with me on so many different levels," said Kenneth Cole. "It was such an inspiring story, I couldn't pass up the opportunity to collaborate on a shoe collection that makes people look good, and do good by raising funds for HRC."
To support the collaboration, a designated area in front of the Al Hirschfeld Theatre (302 West 45th Street), will encourage passersby to try and win a pair of Kinky Boots tickets by following @kennethcoleprd and @kinkybootsbway and Instagraming a photo of their "kinky" shoes using #KCKinkyboots.
Additionally, a 20% shopping discount will be extended to any customer presenting a Kinky Boots ticket stub at Kenneth Cole stores nationwide. Finally, the brand will dedicate its West Side Highway billboard during the month of October to the Kinky Boots collaboration.
The Kinky Boots collection will retail from $150-$400 and will be sold at Kenneth Cole stores, Kennethcole.com, as well as select department stores in December.