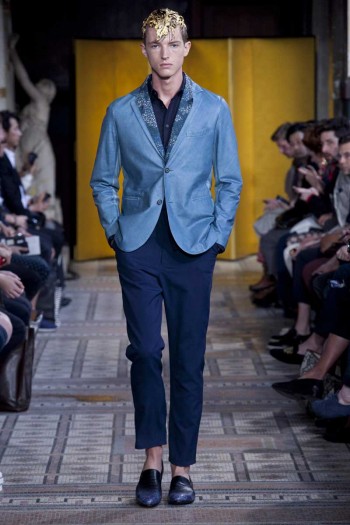 PARIS, Jul 1, 2013/ — Inspired by famed manga series, "Hi no Tori" (Bird of Fire), Miharayasuhiro introduced his audience to the Japanese interpretation of the mythical Phoenix which is known for its eternal life.
Though the interpretation was not literal, it was easy to see the mythical bird in the elements of the show and the collection. It was present in the prints which were suggestive of the phoenix's feathers. And this feeling was reinforced by the models' hairs which were adorned with golden tongues of fire.
The silhouette is loose and comfy looking. Yet, no matter how comfy it looked, formality was intrinsic not just to the clothes per se but to the whole collection.
Its summer, so there are shorts; but the suit jackets and loose-fitting trousers are sharp enough to wear in the environs of the financial district.