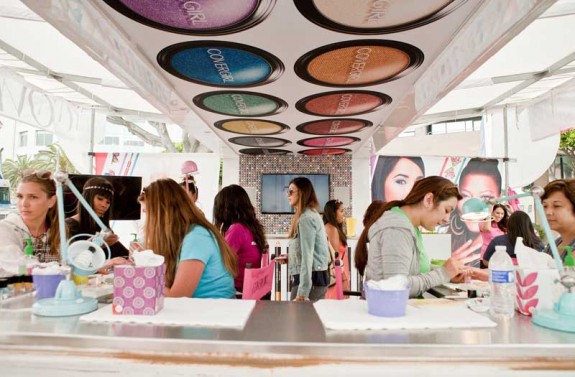 DALLAS, Aug 30, 2013/ — The beauty experts at COVERGIRL took to the streets this summer inside a modified shipping container provided by Boxman Studios and G7 Entertainment Marketing.
The Easy Breezy Summer Block Party hit major cities throughout the country, starting and ending in New York City, and stopping by Lollapalooza and the MTV Video Music Awards along the way.
COVERGIRL's mobile marketing tour offered a new level of brand engagement, traveling to their consumers and allowing them to sample products with the help of COVERGIRL'S beauty professionals.
Guests enjoyed complimentary summer-inspired makeup and manicure applications, beauty tutorials, and product sampling. All experiences were designed to share with friends via social channels — from the digital "Cover Moment Photobomb Booth," to the "Manicam Red Carpet," where guests instantly uploaded six-second Vine videos of their COVERGIRL manicures.
The entire experience took place in a fully branded, customized 20-foot Boxman Suite unit. When traveling between locations, the unit is something like a mobile billboard for the brand complete with the beautiful faces of Sofia Vergara and other Covergirls. Of course when the unit is open, it became a fully immersive mobile COVERGIRL experience that passersby can't help but notice.