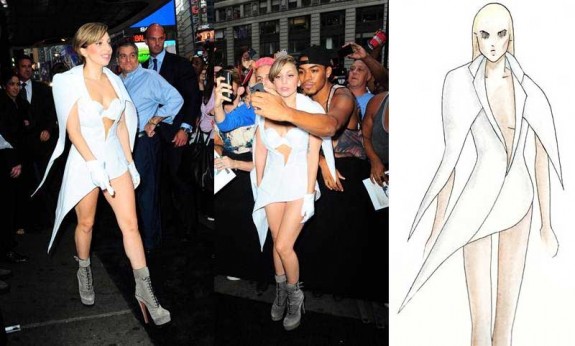 NEW YORK, Aug 19, 2013/ — Lady Gaga gave designer Mathieu Mirano a boost just in time for New York Fashion Week. The famed singer wore a custom designed Mathieu Mirano x Lady Gaga for her appearance in Good Morning America to premiere the music video of her latest single from her new album, ARTPOP.
The ensemble which consists of a warped white paper jacket, a white paper panty and bra, and white paper gloves scream modern and edgy, delighting the fans waiting for Lady Gaga outside the ABC studios at Times Square where Good Morning America is filmed.
Lady Gala also wore Mathieu Mirano x Lady Gaga in the Applause video, scorched duct tape bras with safety pins, crystals, and chains.
Now, for fashion week devotees, Mathieu Mirano will unveil his Spring 2014 collection at the Lincoln Center on September 9, 2013 at 9:00 AM as part of Mercedes-Benz Fashion Week.