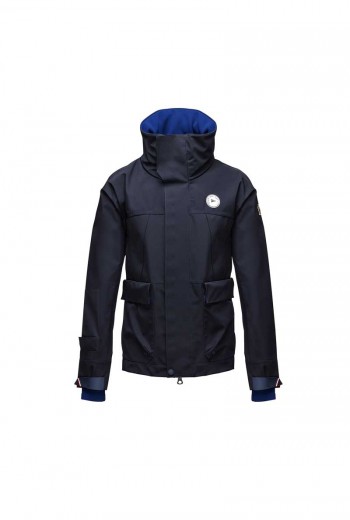 NEW YORK, Aug 28, 2013/ — This year Moncler Grenoble is sponsor the 5th Edition of the Perini Navi Cup, taking place August 28th – August 31st. The crews competing will all be dressed in exclusive Moncler Grenoble uniforms.
The fabrics and styles will allow give the crew versatility and style while protecting them from the elements. This is a wonderful representation of Moncler Grenoble as the brand explores the world of sailing.
As the main sponsor, Moncler will clothe, with the Moncler Grenoble collection, all of the sailing ship crews who will be competing on one of the most beautiful stretches of sea in the world.
Moncler has always been close to the sporting world and for more than 60 years has been developing garmentsthat combine style and modernity with the performance required for active individuals. All of these features are to be found in the Moncler Grenoble collection, and it couldn't have been otherwise for one of the most exclusive and important events in the world of sailing.
Skiing during the winter and sailing during the summer. Moncler Grenoble, the brand's most technical line, faces a crossing of the seas of performance that have been re-edited with style. The spotlight is directed towards the coat, which is resistant, extremely light and manufactured to offer absolute comfort.
The oilskins adapt gently to the body without betraying their necessary water-proof function. The zips come right up to the top of the hood to offer protection from the elements. The wrists and the waist are sealed by hidden water-tight fastenings which will defend the wearer from even the most violent winds.
The Longue Saison down jacket offers warmth without weighing you down, alternating between the role of a discreet under jacket and that of the true protagonist of the look. The solid colors begin with classic blue, red and white, to then make way, especially in the ladies' collection, for bright colors, which range from romantic to shrill.
The large stripes are arranged vertically or horizontally and narrow in places to form delicate micro frills in the womenswear. The most efficient nylon sits alongside a large sweatshirt, where the neoprene effect creates an avant-garde three-dimensional look. The proportions remain true to the forms of the body, offering, here and there, measured forays into oversize and small puffed sleeves in women's models with a more across-the board appeal.
The Moncler Grenoble Collection owes its name to the French village where the brand was founded in 1952. With Moncler Grenoble the brand returns to its roots and history through a stylistic choice which is that of a complete outfit, where the research on fabrics is always focused on functionality and style, offering a balance that is absolutely perfect.