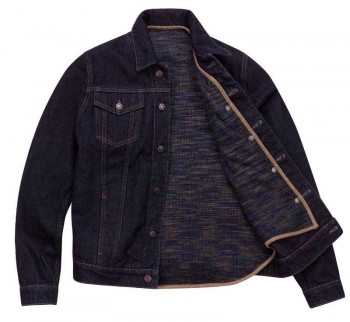 LONDON, Sept. 20, 2013 / — Jean Machine, the contemporary men's denim brand, announces its first offering in partnership with Missoni, the iconic Italian fashion house. Both family run businesses, and specialists within their fields, the two companies make a natural fit.
The collaboration for Autumn-Winter 2013 offers Jean Machine's signature JM2 straight leg jean in a clean blue Rinse wash with Missoni knitted pockets in the season's blue-camel colour pallet.
Also offered is the classic JM4 jacket, reworked to include a button out detachable Missoni zigzag felted wool waistcoat in a coordinating blue-camel knit.
Together they offer an understated, simple style statement.
The concept of British menswear brand Jean Machine is simple: great quality, well-cut jeans and casual men's clothing. Famous in the 70s for its denim, the relaunched Jean Machine offers an uncomplicated, concise wardrobe for the modern man.
Missoni, the iconic Italian fashion house, celebrates its 60th birthday this year. The men's A/W 2013 collection references the family's artisanal knitwear heritage while continuing its constant focus on innovating exclusive knit techniques.
This is represented in the unique Missoni fine loom knits only made in Sumirago Italy that form the core of the brand's tailored offering for A/W 2013.