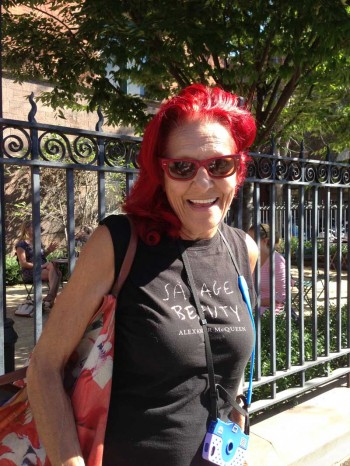 NEW YORK, Sep 11, 2013/ — Patricia Field, famed costume designer for Sex & the City has helped launched new designers many times over. And this time, she had set her eyes on California designers!
Launching a bevy of new names – DimePiece, Rik Villa, Hologram City, Jonathan Burdine, Joe Anthony Salas, Richard Hallmarq and Adeen, Patricia Field is hosting a VIP shopping event celebrating California designers in her legendary eponymous store on Thursday, September 12th, 2013, from 4-9PM.
It was Ms. Field's interest in celebrating and supporting independent designers and the absence of the usual Fashion Night Out which inspired her vision for this event.
The California in NYC Party will be held at Ms. Field's flagship boutique at 306 Bowery from 4pm through 9pm. The event will feature on the rise entertainers, including performing artist, and House of Field Alum, Dai Burger as well as recording artist XRS. The event is RSVP only with an after party at the DL, sponsored by Pavan Liqueur and Eklektikon wines.
FEATURED DESIGNERS
DimePiece was founded in Spring of 2007 in the heart of Los Angeles by Ashley Jones and Laura Fama. Their charismatic vision quickly transformed into a go-to brand for girl power, cult graphics and uninhibited contemporary streetwear. Dimepiece transforms standards in women's apparel, into a nonconformist reign with a rebellious strength.
Richard Hallmarq found footing in the fashion industry as a cast member on the hit TV series "Project Runway". With strict attention to fit and detail, Hallmarq creates ready-to-wear for clientele that reaches all from the woman of business to the world of celebrities.
∆DEEN is a New York City based lifestyle brand created by Rembrandt Duran. His goal is to bring "fun" back into the world of fashion. ∆DEEN hats have been seen on celebrities such as Anne Hathaway, Azealia Banks, Missy Elliott and Will.i.am.
Being born and raised in LA set the landscape for fashion designer and stylist, Hoza to create his collection: Hologram City. The young visionary designer draws inspiration from street culture and high fashion. His signature aesthetic of athletic chic & bold shapes have been worn by the likes of Chris Brown, Nicki Minaj, Rye Rye, Brooke Candy, Iggy Azalea and have been featured in Blackbook Magazine and Zink Magazine. Hologram City has also created a cult like following in Los Angeles, NYC, Japan, Australia & Taiwan.
Rik Villa is an LA based brand and designer who got his start in 2004. His designs bring a fresh sense of style, utilizing the vitality of street fashion and the age-old bandana print. A favorite among the underground youth, Rik Villa is also gaining a celebrity following.