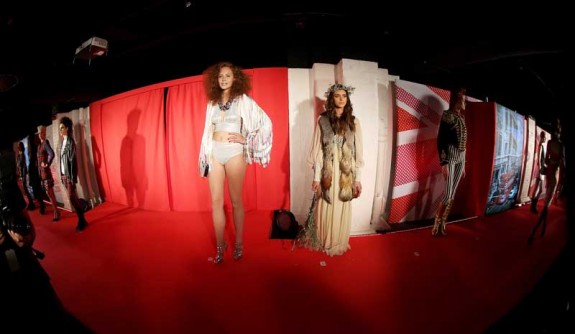 LONDON, Oct 11, 2013/ — On the evening of Thursday 10th October 2013, London's cool crowd congregated at the ultimate birthday party to celebrate the imminent 180th anniversary of edgy make-up brand Rimmel.
And part of this celebration is a "Living Timeline of London Beauty & Fashion" catwalk show featuring looks for the past 180 years.
Incredibly, Rimmel is one of the world's oldest beauty brands having been the fashion-forward inventor of the hip London look since 1834. Aptly, the party was hosted at the London Film Museum in Covent Garden, just a few metres away from the Strand where the first Rimmel headquarters was located back in 1860.
To kick-off the event, guests were treated to a celebration of Rimmel's 180 year history and 180 years of 'London cool' through fashion, make-up, video and music. Rimmel's trend-setting heritage was brilliantly brought to life through a stunning fashion show involving 18 models representing 18 iconic looks from 1834 to 2014, including Brit beauty Georgia May Jagger who showcased the glam '70s Studio 54 style.
To perfectly capture the eye-catching essence of each era, all of the make-up looks were created by Rimmel's international make-up artist, Kirstin Piggott.
Once the final model took her place on stage, the line-up formed a chronological living timeline of Rimmel's and London's rich history of beauty and fashion.
Photos courtesy of Rimmel