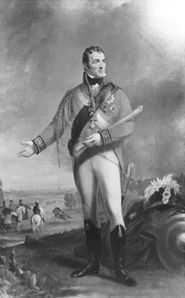 Nowadays, the Wellington boot is thought of as a choice of footwear for festival goers and farmers. However, what many people don't know is that this simple and practical shoe actually has a rich and extensive history behind it. Here, we'll be exploring the legacy of the good old 'welly'…
Origin
The origins of the Wellington boot can be traced to a change in fashion in 1817. The popular style for gentleman at the time was the Hessian boot, which featured a curved top and heavy metallic braid that made them perfect for wearing with breeches. However, breeches swiftly fell out of fashion, with many gentlemen opting for trousers instead – the Hessian boot was rendered unsuitable.
In order to develop a shoe that would better fit the demands of trousers, the first Duke of Wellington, Arthur Wellesley, asked a shoemaker to alter the Hessian boot. Together, they created a leather boot that fitted closer to the leg and lacked the rounded trim. Thus, the Wellington boot was born.
Development
The leather Wellington boot remained a popular choice for many years after its creation. At the time, major developments were being made in the shoemaking industry, with many people keen to use rubber. This aided the rise of the Wellington as we know it, made from durable and waterproof rubber, and the footwear became a staple in both the First and Second World Wars.
The emergence of the 'wellies'
Jump forward to the modern day and the Wellington boot is as popular as ever. Now affectionately named 'wellies', people of all ages from all walks of life can regularly be seen stepping out in this winter essential.
Modern day wellies are a far cry from the Wellingtons once worn. While we were previously restricted to plain colours like green and brown, we now have a wealth of brightly coloured wellies with fun prints to choose from.
Providing a modern take on traditional wellington boots, Brantano stock a great range of fun and affordable wellies. We love these groovy print wellies – they're sure to brighten up even the dullest of winter days.
Combining practicality with fashion, it is unsurprising that so many people continue to wear wellies. The reign of the Wellington boot shows no sign of letting up either, even after nearly 200 years on the fashion scene.