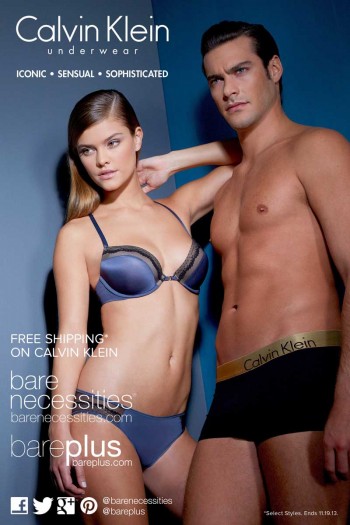 NEW YORK, Nov 5, 2013/ — Last year, Bare Necessities launched a digital lookbook in celebration of Calvin Klein's 30th anniversary. This year, Bare Necessities highlights Calvin Klein's new and iconic intimate apparel in a way no other retailer has before – featuring supermodel Nina Agdal.
Bare Necessities' collaboration with Calvin Klein, one of the most famous brands in intimate apparel, is the cherry on top to a successful year of selling sexy lingerie. The Bare Necessities team hired Sports Illustrated Swimsuit model, Nina Agdal, to pose in their Calvin Klein feature, modeling the most iconic bras in the world.
Bare Necessities released the online feature earlier today. It was inspired by Calvin's signature and provocative brand image everyone knows and loves, highlighting an assortment of bestselling and new styles of Calvin Klein intimates while keeping the modern, sensual and sophisticated aesthetic the brand is known for.
This partnership between Bare Necessities and Calvin Klein was to shed light on the brand's must-have bras and display them in a way that not only looks appealing, but also helps streamline the process of finding the perfect fit and style for her. The assortment brings together all the key pieces by CK, from the latest go-to Icon collection to the Concept collection which represents Calvin's true heritage- iconic.
This launch isn't just for the ladies- guys, we have stuff for you, too! Bare Necessities carries the newest activewear styles which are designed to help deliver impeccable performance, plus edgy new underwear.
Check out the sensual photography and elegant design on full display at Bare Necessities, and shop the latest and best-selling CK styles while you're at it! The retailer will even pick up the shipping costs and send your Calvin Klein order to you FREE!