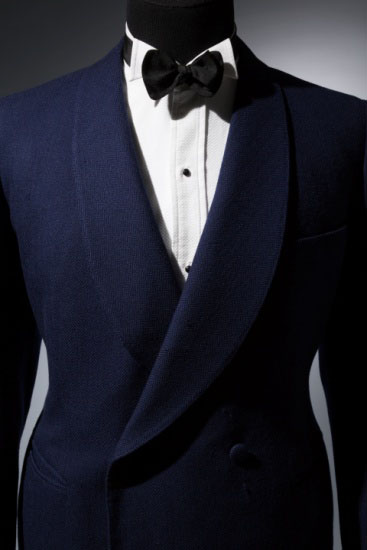 The Museum at the Fashion Institute of Technology (MFIT) presents Elegance in an Age of Crisis: Fashions of the 1930s, an exhibition that celebrates the most innovative and beautifully designed clothing made in the 20th century.
Elegance in an Age of Crisis: Fashions of the 1930s
February 7, 2014 – April 19, 2014
The Museum at FIT
This is the first exhibition to concurrently examine both men's and women's fashion of the 1930s, specifically objects made by the era's finest dressmakers and men's clothiers. Haute couture and bespoke tailoring are equally represented by the approximately 80 ensembles and 30 accessories that are arranged thematically in an exhibition environment designed to evoke the restrained style of the era.
The 1930s was a time of grand transformations, when fashion truly began to reflect the streamlined art moderne aesthetic. Garments were softer, minimally ornamented, elegantly proportioned, and markedly different from the preceding periods: the Edwardian era with its stiff, structured clothing, and the shapeless, boxy styles of the 1920s.
Elegance in an Age of Crisis investigates how clothing creators of the 1930s, despite the crippling financial crisis and dire political environment, spearheaded new stylistic ideas and wed them to emerging technologies.
Technical innovations in textile production transformed what was possible for couturiers: looms were wider, dyeing vats were larger, and fibers were more tightly twisted .
These expansive and flexible new materials gave dressmakers larger "canvases" upon which to rethink and refine draping techniques, while featherweight textiles lent their garments new suppleness and flexibility. Tailors in both Northern and Southern Europe simultaneously began to deconstruct the jacket and to create a garment that was shapely, yet pliant. Lighter materials, such as linen, were used to make softer jackets.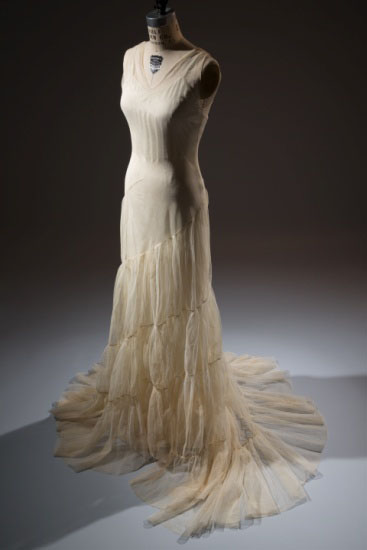 The look of the 1930s was an international phenomenon. Menswear tailoring innovations in London and Naples paralleled breakthroughs in haute couture draping in Paris as well as custom design in New York, Havana, and Shanghai. Hollywood, too, played a role in defining and popularizing the glamorous new look. On view in the exhibition is clothing made in these cities for clients from the United States, Latin America, Europe, and Asia.
On view is clothing—mainly, but not exclusively, daywear—from Naples, London, Paris, New York, and Shanghai. Linen jackets and wool coats on loan from the Rubinacci Museum reveal the revolutionary innovations of legendary Neapolitan tailor Vincenzo Attolini, who worked for Gennaro Rubinacci's firm, London House, and who was the first to create "deconstructed" jackets and coats.
Also on view are highly original designs for women, such as a bias-cut brown wool tweed coat by Charles James (1936); handmade day dresses and ensembles by couturiers such as Louiseboulanger and Augustabernard; and from Shanghai, versions of the silk qipao, a truly new fashion hybrid that blended the body-conscious western silhouette with traditional Chinese design elements.
The gowns—long, streamlined, an d minimally adorned—illustrate a strong connection to classicism. They highlight the "natural" body and simultaneously sever stylistic and structural connections to the corseted fashions of the early 20th century, as well as to the tubular chemise dress of the1920s.
Featured couturieres include Madeleine Vionnet, Augustabernard, Louiseboulanger, Balenciaga, and Alix, as well as American designers such as Elizabeth Hawes, Valentina, and Claire McCardell. They are presented in groupings that illustrate important trends, such as the predilection for black and white, draping and cutting gowns on the bias, and the use of new and innovative materials, such as silk jersey and silk crepes.
This exhibition is organized by Patricia Mears, deputy director of The Museum at FIT, and G. Bruce Boyer, leading menswear writer and editor.
Elegance in an Age of Crisis: Fashions of the 1930s has been made possible in part thanks to the generosity of the New York State Council on the Arts, with the support of Governor Andrew Cuomo and the New York State Legislature. The exhibition is also supported by the Couture Council of The Museum at FIT.
The exhibition will be on view from February 7, 2014 to April 19, 2014.
Museum hours:
Tuesday-Friday, noon-8 pm;
Saturday, 10 am-5 pm.
Closed Sunday, Monday, and legal holidays.
Admission is free.