NEW YORK, February 11, 2014/ FW/ — Entitled 'A Look Behind the Degen Fall 2014 Collection', the talented knitwear designer, Lindsay Degen   showcased her Degen Fall/Winter 2014 collection, which includes sweaters, dresses, leggings, and shoes that all celebrate the human body as a work of art and encourages expression through garments.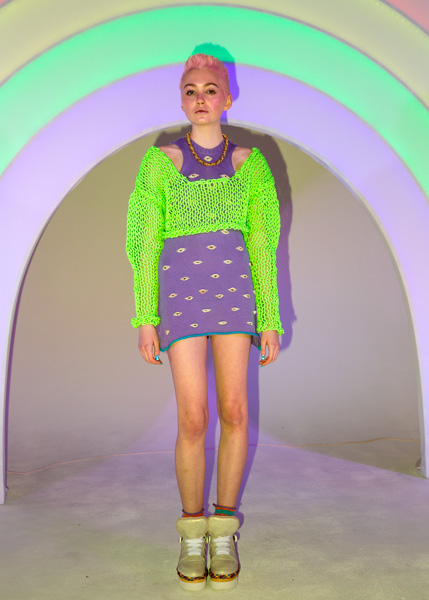 "Degen Fall 2014"
Lindsay Degen's theme for her Degen Fall 2014 collection is described as "a rainbow is created by refraction, total reflection, and the dispersion of light. It is visible when the sun is shining through air containing water spray or raindrops, which occurs during or immediately after a rain shower. The bow is always observed in the opposite side of the sky from the sun… but knitted."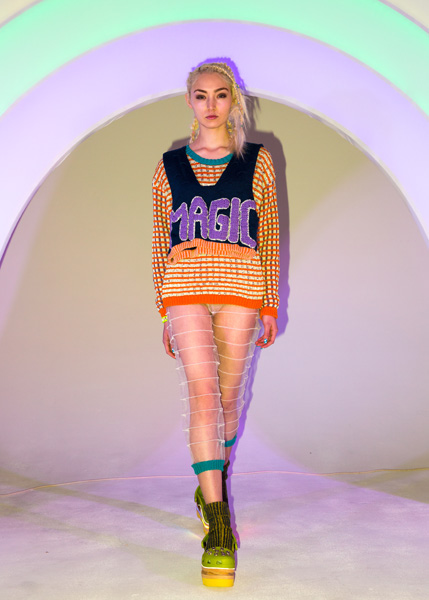 Fashion Windows editor Darby Radcliff catches up with the designer, Lindsay Degen to discuss the inspiration behind her Degen Fall/Winter 2014 Collection.
What was the inspiration for your Fall 2014 collection?
This season I started working with fishing line, reflective material and foam and let the knitting take me where it took me. The knitting came out of the machine in completely unexpected ways that were really exciting to me. I wanted to create that childlike excitement in the viewer.  I think the rainbow theme supports that childlike excitement.
What were your favorite materials and hues used in your Fall 2014 collection?  
The fishing line was a stand out favorite material. I was really into the reflective yarn also.  My favorite hues included a dirty yellow paired with a beautiful midnight blue and reflective white.
What's next for your brand?
I think DEGEN is known for doing crazy knits. I will release a knit basics line for Spring. We also want to collaborate with as many people as possible.
Do you have anything else to add?
Also want to shout out to the menswear line Highland which I did some knits for this season. I also collaborated with members of the band Anamanaguchi to create the soundtrack and rainbow for the show. The jewelry was Iko Ino.
For More Information about Degen, Check Out:
degen-nyc.com
@DegenNYC
[DARBY RADCLIFF]
 Photo Courtesy of COLLECTIVE Communications