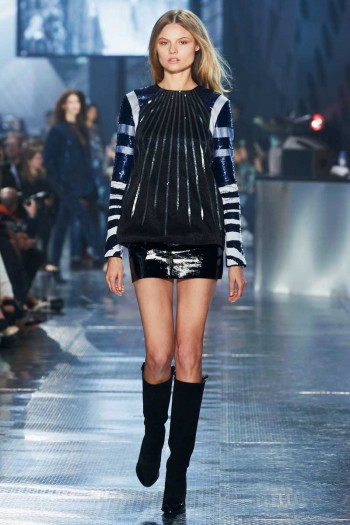 PARIS, Feb 27, 2014/ — With Andreea Diaconu, Joan Smalls, Izabel Goulart and Saskia De Brauw headlining the show, H&M Studio, the new name for H&M's seasonal collection, unveiled its Fall 2014 assortment in front of 600 guests at the Grand Palais.
Mixing feminine with masculine styles, the H&M Studio Fall 2014 collection is about taking the Parisian spirit and bringing it to the H&M world.
Slip dresses and draped tops were worn under men's blazers, biker and aviator jackets. It's Annie Hall reinvented – a nonchalant elegance that is so 21st century!
To create the look, silk crepe, silk satin, fine cashmere and velvet were used. Fake fur coats added texture with detailing from sequin and stone embroidery.
And here's great news to H&M fans. H&M Studio now has its own dedicated design team. Each season H&M Studio will offer a limited-edition collection of the hottest looks and statement pieces.
The Fall 2014 collection will be available in around 250 stores worldwide, as well as online, from September 4, 2014.