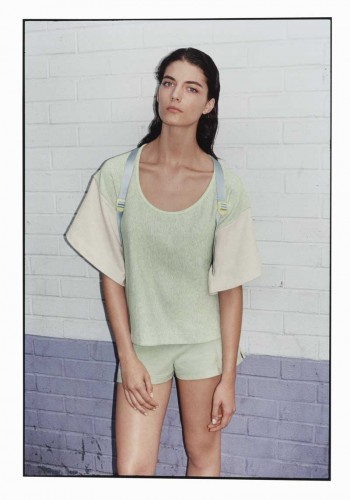 HERZOGENAURACH, GERMANY, Mar 19, 2014/ — Stella McCartney brings her passionate commitment to the environment in her adidas by Stella McCartney line with the introduction of 39 new high-sustainability pieces to the collaborative label.
Always considering innovative ways to increase its ecological offering, adidas by Stella McCathery proposes apparel that has been created using Low Waste, Dry Dye, Organic Cotton, Recycled Yarn and Tencel® options to inspire the next generation of eco-conscious athletes.
'I'm really proud to offer a collection that incorporates sustainable elements wherever possible: this season not only do we use dry dye technology, recycled yarn and organic cotton, but we also have made a real effort to reduce on surplus waste. One fifth of the entire collection is sustainable and we continuously strive to find new ways to do our bit for the environment.' says Stella McCartney.
Alongside uniting aesthetically compelling, standout style and supreme functional performance, adidas by Stella McCartney follows the same code of ethics as all Stella McCartney collections, as part of the adidas Better Place Program. Launched in 2007, the adidas Better Place Program aims to guide and encourage the creation of more sustainable products without compromising their functional and quality performance.
The Spring/Summer 14 collection is available in the flagship adidas by Stella McCartney store in London's Brompton Cross, as well as over 788 concessions in adidas Women's stores, adidas Sports Performance, leading e-retailers and sports retailers globally and high-end department stores such as, Lane Crawford, Neiman Marcus, Isetan, Le Printemps, Harrods and Nordstrom.
It can also be found online at net-a-porter, www.adidas.com/stella and www.stellamccartney.com.
Accessories and Footwear prices start from around 45 Euro for Swimwear up to 300 Euro for the Run Printed Jacket.
adidas by Stella McCartney collaboration was launched in Spring/Summer 2005 and remains a unique concept for women's sports performance. The highly innovative sports performance range consists of apparel, footwear and accessory pieces in Tennis, Weekender, Running, Yoga, Studio, Swim and Cycling for the spring/summer seasons, and Wintersports for the fall/winter seasons.