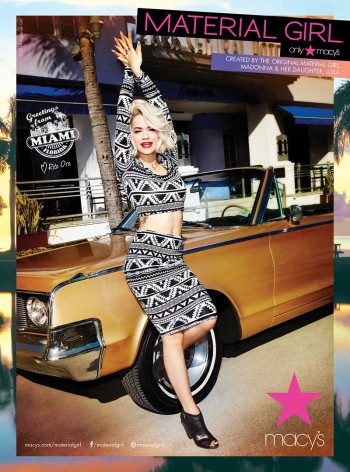 NEW YORK, Mar 11, 2014/ — Headlined by Rita Ora, Madonna's "Material Girl" label unveiled its Spring 2014 campaign last week.
Entitled, "Material Girl Hits Miami", Rita Ora shared the limelight with Miami's hot spots and thus making the city the second protagonist in the campaign.
Commenting on her Material Girl spring campaign, Rita Ora stated, "I don't think there are any rules in the fashion world and Material Girl is wonderful way to really express yourself."
Material Girl is a fast-fashion junior collection inspired and designed in collaboration with Madonna and her daughter, Lola. Already a favorite among young fashionistas, Material Girl is sold exclusively at Macy's.
"Rita is the perfect fit for the Material Girl brand. She is a style icon who knows how to have fun with fashion," commented Lola.
Madonna added, "Rita is fearless when it comes to fashion and expressing herself. We love her personality and think she perfectly embodies the spirit of Material Girl."
"Rita Ora really embodies the independent spirit of the Material Girl brand," said Martine Reardon, Macy's chief marketing officer. "Her confidence, bold style and constant transformation inspire Macy's fast fashion customers, and Miami added the perfect dose of sizzle as the backdrop for the brand's upcoming spring collection."
The multi-media marketing campaign debuts in the March issues of fashion and lifestyle magazines as well as online, outdoor, in-store and in Macy's marketing collateral.
In addition to appearing in the campaign, Rita will make personal appearances on behalf of Material Girl at Macy's. The Material Girl brand is available exclusively at select Macy's in the United States, The Bay in Canada and Myer in Australia.