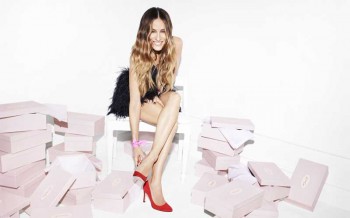 DALLAS, Mar 8, 2014/ — The wait is over! Sarah Jessica Parker will present her SJP Collection at Nordstrom in NorthPark Center in Dallas on March 9, 2014 from 12:30 pm to 1:30 pm,
Launched exclusively at Nordstrom stores and Nordstrom.com on February 28, the SJP Collection became an instant favorite among fashionistas. Reflecting Sarah Jessica's personal looks and feminine style, the SJP Collection offers shoes crafted by artisans in Italy.
The line also features three styles of handbags in black, nude, navy, coral, pewter, green, and mauve and the grosgrain-trimmed Manhattan trench coat in navy and khaki to complement the collection on the whole.
The shoe prices range from $195 to $485 and is made in Italy from high quality leathers and materials. Handbags will retail from $245 to $375 and the Manhattan trench will retail for $495.
From 12:30 pm to 1:30 pm on Sunday, March 9th, Sarah Jessica Parker will meet with customers and sign their SJP purchase throughout the event (as time permits). Please note that due to limited time, Sarah Jessica Parker will only be able to sign items from the SJP Collection for customers who have made a purchase.
WHEN: March 9 from 12:30 pm to 1:30 pm
WHERE: Nordstrom NorthPark Center
2000 NorthPark Center
8687 North Central Expressway
DALLAS, TX