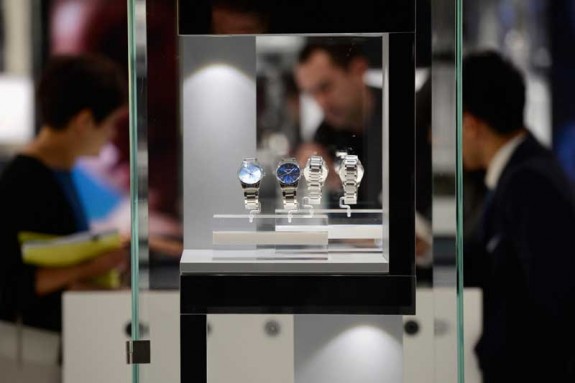 BIEL, Switzerland, Apr 2, 2014/ — Last Thursday, March 27th, ck Calvin Klein Watch + Jewelry hosted a special, invitation-only dinner to celebrate the label's 2014 watch and jewelry collection.
The event, which also featured a musical performance by contemporary violinist Charlie Siem was held at the fine art museum in Kunstmuseum Basel, in Switzerland, in conjunction with BaselWorld 2014, the world's largest watch and jewelry fair
The new 2014 Calvin Klein Watches & Jewelry lines presented at BaselWorld 2014 were designed under the creative direction of Mr. Grimm.
Highlights from the 2014 Calvin Klein Watches + Jewelry lines include the iconic Calvin Klein bold watch, which has been newly redesigned for 2014 to accentuate contemporary style, and is now available in both gent and gent chronograph styles.
Another key timepiece, the sophisticated Calvin Klein body for women, features fluid and pure lines for a watch that is both agile and graceful. Calvin Klein color introduces bright hues to the line, making it the perfect accent for a casual chic weekend look.
This unique timepiece is offered with an aluminum case and features a youthful and minimal design that is suitable for both men and women.
One of the key jewelry sets for the season, Calvin Klein joyous, includes two pendant necklaces, a bracelet and a pair of delicate earrings that feature a timeless heart shape.
Rounding out the season's jewelry offering is Calvin Klein sumptuous, which is comprised of four striking circular jewelry pieces, including a pendant necklace, bracelet, ring and earring set that each mirror the same multi-layer band construction.
ck Calvin Klein Watch + Jewelry Co. Ltd. is one of the rare ambassadors of the Swiss watch industry in the fashion segment. In 1997, Calvin Klein, Inc. and the Swatch Group merged their formidable talents to create ck Watch.
The clean, contemporary, graphic lines of watches such as ck Dress struck a chord with the public, and the new, inimitable "watch as fashion accessory" was born. Today, more than 200 different Swiss made designs for both men and women are on the shelves in over 80 nations. Launched in 2004, ck jewelry features clean lines and the characteristic curved metal surfaces that make for a sexy but simple design aesthetic.
IMAGE CREDITS: © 2014 Clemens Bilan/Getty Images -or- Thomas Niedermüller/Getty Images