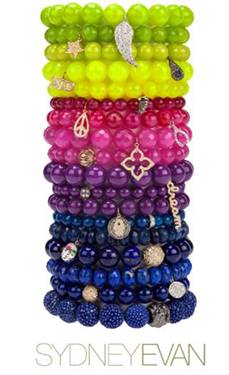 DALLAS, Apr 9, 2014/ — On Saturday, April 12th jewelry enthusiasts and Sydney Evan fans will have the opportunity to work alongside designer Rosanne Karmes to create their very own personalized Sydney Evan beaded bracelet and/or necklace.
This interactive jewelry event is great for all jewelry lovers are looking for personal and individual pieces to add to their collection.
The custom bead bar will offer over a variety of 14k gold and pave diamond charms to choose from, including the brand's signature spiritual styles like hamsas and evil eyes, lucky symbols, and Sydney Evan's celebrity coveted "Love" word charms; paired with a rainbow of beaded bracelets made from semiprecious beads or varying length chain necklaces.
Karmes will be on site to help customers create their very own custom creation that represents their personal style, which will be available for pick up within 24 hours of ordering.
WHAT: Sydney Evan Custom Charm Bar
WHEN: Saturday, April 12th
10am-5pm
WHERE: Neiman Marcus NorthPark
8687 North Central Expressway
Dallas, TX 75225