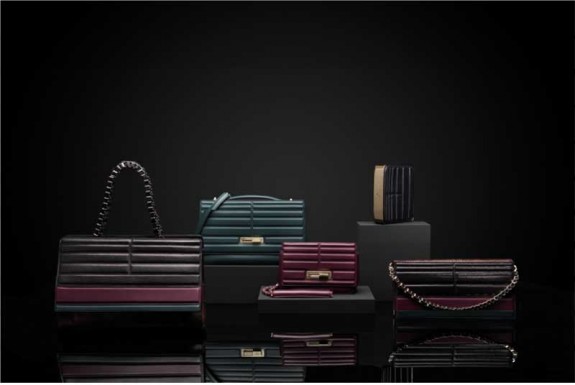 PARIS, Apr 24, 2014/ — Elie Saab has something new for his fans – Poincaré, a new handbag line that was developed in the Lebanese couturier's new Parisian headquarters.
A set of five handbags, Poincaré was named avenue Raymond Poincaré, the address of Elie Saab's design studio in the 16ème district.
Poincaré is designed to represent strong, structured rectilinear silhouettes which are suspended from metal and leather straps. Some of the bags are intended to be handheld, the jewellery-inspired chain purposely adorning the wrist.
The range includes a large trapeze-shaped leather handbag featuring horizontal quilted panels alongside medium and small-sized versions, with matt metal clasps featuring a unique horizontal sliding mechanism.
In addition, an envelope and a box clutch, that has an inimitable combination of a metal frame with a pivoting soft pouch.
The mono and tricolour handbags are available in three opulent colours: merlot red, forest green and tenebrous black.
The Poincaré handbag collection will be introduced for the Autumn-Winter 2014/15 season, and will arrive in stores mid-July.