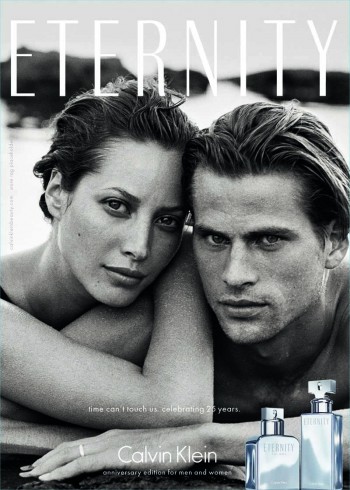 NEW YORK, Apr 1, 2014/FW/ — No, it's not an April Fool's joke. It's true; the iconic fragrance ETERNITY Calvin Klein fragrance is 25 years old! And to celebrate this milestone, the brand is re-issuing the 1995 ETERNITY advertising campaign featuring the brand's original face, model and maternal health advocate Christy Turlington Burns.
Launched in 1988, the vision of ETERNITY symbolized eternal love and commitment after the excess of the late 1970s and the early 1980s. The first advertising campaign featured Turlington Burns, who artfully and unforgettably represented the ETERNITY fragrance brand until 2006.
Shot by famed photographer Peter Lindbergh, the 1995 ETERNITY advertising visual features Turlington Burns and model Mark Vanderloo in a romantic embrace on a beach – wedding rings clearly visible.
The creative will return in leading print publications this May in the United States, Canada and United Kingdom, but will be updated with the new ETERNITY Calvin Klein 25th Anniversary Edition bottles.
Cast in a sleek silver metallic finish and filled with the signature scents for women and men, the anniversary fragrances were introduced at retail last month.
The original ETERNITY campaign video will also be reissued for digital and in-store marketing, and will complement the refreshed print advertising with the same extended version of the 1995 tagline – "Time can't touch us. Celebrating 25 years."
Tom Murry, Chief Executive Officer of Calvin Klein, Inc., said, "Like the iconic ETERNITY Calvin Klein fragrance, Christy is intertwined with the historic legacy of the house. It could not be more fitting to celebrate the eternal spirit of the fragrance and its silver anniversary, than with the original campaign imagery and Christy, who has enduring and endless ties to the brand."
IMAGE CREDIT: © Peter Lindbergh