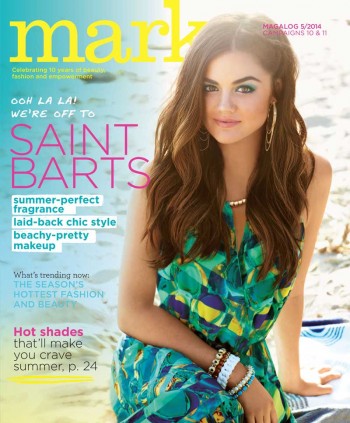 NEW YORK, Apr 21, 2014 /— The Launch: mark., Avon's beauty and fashion boutique brand, launches its Saint Barts Instant Vacation beauty and fashion collection featuring Brand Ambassador and Pretty Little Liars star Lucy Hale.
"Saint Barts is the perfect inspiration for this capsule collection," Hale said. "The vibe is chic but not fussy, which fits perfectly with my personal beauty and fashion philosophy."
The Saint Barts collection features a new summer-perfect fragrance, chic maxi dress and beachy-pretty makeup. The campaign debuts in the mark. Magalog (magazine + catalogue) and at www.meetmark.com.
A full list of products is below. mark. launched its first Instant Vacation collection in 2005 to capture the feeling of being transported to an exotic locale. Past destinations include Marrakesh, Ibiza and the Greek Isles.
The Instant Vacation Sweepstakes:
To celebrate the Saint Barts Instant Vacation launch, mark. is hosting a product sweepstakes from April 21, 2014 through April 27, 2014. Fans can enter for a chance to win products from the new Saint Barts collection with a signed Magalog by Lucy Hale every day by visiting here.
NO PURCHASE NECESSARY TO ENTER OR WIN. Open to legal residents of the 50 U.S. and D.C. ages 18 and over. Sweepstakes ends on April 27, 2014 at 11:59 p.m. Eastern Time. Void where prohibited. Sponsor: Avon Products, Inc. More details on the Sweepstakes and Official Rules are available here.
The Saint Barts Instant Vacation Beauty Collection:
Saint Barts Soleil Eau de Toilette Spray: $24
Saint Barts Soleil Shimmering Body Lotion: $14
Island Eyes Eye Color Palette: $16
Island Beauty Face Compact: $16
That's Beachy Texturizing Surf Spray: $14
Nail This Look Nail Color and Flip-Flop Set: $28
The Saint Barts Instant Vacation Fashion Collection:
Island Elegance Maxi Dress: $44
Glam and Roll Jewelry Case: $24
Sail Away Duo Charm Necklace: $20
White About Now Watch: $32
Glimmer and Gleam Bracelets: $26
The White Approach Belt: $18
Hang With Me Earrings: $20
Change Your Ways Dress: $36
Berry Stylish Sandals: $34
Get In The Shade Sunglasses: $18
Berry Breezy Blouse: $32
Keep It Together Bracelet Ring: $24
Get Packing Tote: $40