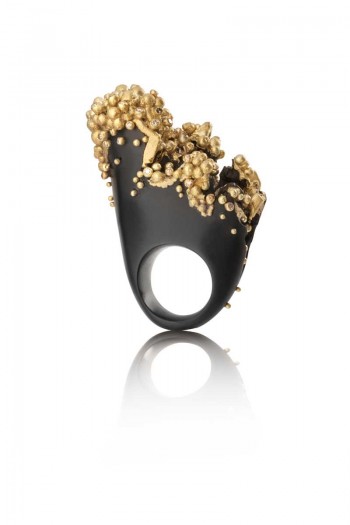 Whitby jet is a prehistoric black fossil ca. 180 million years old most commonly associated with Victorian mourning jewellery. Whitby jet is now rare and Jacqueline's supplier abseils down the cliffs on a rope collecting raw samples from disused Victorian mines.
Jacqueline Cullen has developed innovative processes and formats that celebrate rather than disguise the inherent inclusions of Whitby jet allowing the natural beauty of the material to speak for itself, removed from connotations of death.
Jacqueline is inspired by dramatic acts of nature, a placid sky ripped open by a slash of lightening, a volcano erupting, a cliff edge left jagged from erosion.
Even in the act of immense destruction, nature can create something intensely beautiful. Hiatuses inform her aesthetics and the interruption or breaking up of a bold, fluid form is central to her work where fractures, fissures and crevices release a luxurious cascade of textured gold or glittering diamonds.
Jacqueline Cullen remains committed to introducing this ancient and sensual material to a contemporary audience.
Jacqueline received the Balvenie Master of Craft award (stone category). Her work has been featured in Vogue, Financial Times, FT How To Spend It, The Times, The Sunday Telegraph, Elle Germany, The Independent, Harpar's Bazaar, Tatler, Wallpaper* and on BBC TV and radio.
She is featured in 'Drawing Jewels for Fashion' by Carol Woolton jewellery editor of Vogue. Stockists of Jacqueline Cullen's contemporary Whitby jet jewellery include Kentshire at Bergdorf Goodman New York and Dover Street Market London with Net-a-Porter coming soon.
www.jacquelinecullen.com